Major General Gouverneur K. Warren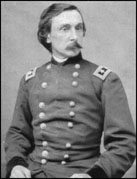 NAME
Warren, Gouverneur Kemble
BORN
January 8, 1830
Cold Springs, New York
DIED
August 8, 1882
Newport, Rhode Island
ARMY
Union
Warren graduated from West Point in 1850, ranked 2 out of ?? in his class. He was commissioned a second lieutenant in the Corps of Topographical Engineers and became a civil engineer. In the years prior to the Civil War, he worked on the Mississippi River, on transcontinental railroad surveys, and mapped the trans-Mississippi West. He also taught mathematics at West Point.
At the start of the Civil War, Warren received a commission as a Lieutenant Colonel of Volunteers in the 5th New York Infantry Regiment, and later was promoted to Colonel and regimental commander. The regiment fought at the Battle of Big Bethel. He commanded a brigade at the Battle of Yorktown and was wounded in the knee at the Battle of Gaines' Mill. At the Battle of Malvern Hill, his brigade stopped the attack of a Confederate division.
Warren led a brigade in the Peninsula Campaign, the Second Battle of Bull Run and at the Battle of Antietam. He served as chief engineer of the Army of the Potomac at Gettysburg. Although he did not command troops during the battle, his advice to Major Gen. George Sykes' corps is credited with having helped divert a Union disaster. He led the V Corps in the 1864 Overland Campaign.
After Warren was promoted to Brigadier General, he served as Chief Topographical Engineer and then Chief Engineer, Army of the Potomac.
On the second day of the Battle of Gettysburg, Warren initiated the defense of Little Round Top, recognizing the importance of the undefended position and directing the brigade of Col. Strong Vincent to occupy it just minutes before it was attacked. Warren suffered a minor neck wound during the Confederate assault.
Promoted to major general after Gettysburg, he commanded II Corps and then the V Corps. He led the V Corps through the Overland Campaign, the Siege of Petersburg, and the Appomattox Campaign.
Warren's caution on the field became problematic for the Union strategies. At the Battle of Five Forks, Major Gen. Philip Sheridan relieved him of command for what was perceived as a failure to advance in a timely manner. After his death, a court of inquiry later cleared him of any wrongdoing.
After the war, Warren served in the Corps of Engineers with assignments along the Mississippi River and spent the rest of his career in the army working as an engineer and writer on military subjects. After he died, he was buried at Newport at his request in civilian clothes and without military honors.
Promotions:
Lieutenant Colonel - ??
Colonel - ??
Brigadier General - September 26, 1862
Major General - May 3, 1863
Major Commands:
3rd Brigade, 2nd Division, V Corps
Chief Engineer of the Army of the Potomac
V Corps
Chief Topographical Engineer, Army of the Potomac
Chief Engineer, Army of the Potomac
II Corps (August 1863-March 1864)
V Corps
Site Map
| Copyright © 2012
USwars.com
,