Vice Admiral David G. Farragut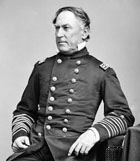 Farragut, David Glasgow
July 5, 1801
Campbell's Station, TN
August 14, 1870 Portsmouth, NH
Union
Farragut was born to George and Elizabeth Farragut at Campbell's Station, near Knoxville, Tennessee, where his father was serving as a cavalry officer in the Tennessee militia. George Farragut had been a British merchant captain who joined the American Revolutionary cause.
Farragut entered the Navy as a midshipman on December 17, 1810, after having been virtually adopted by Commodore David Porter. When only 12 years old, he was given command of a prize ship captured in the Pacific by Porter during the War of 1812. He fought in the Mexican War.
Through the years that followed, in one assignment after another, he showed the high ability and devotion to duty which would allow him to make a great contribution to the Union. He wrote a famous page in the history of the United States Navy.
In command of the West Gulf Blockading Squadron, with his flag in USS Hartford, on April 29, 1862, he ran past Fort Jackson and Fort St. Philip and the Chalmette, Louisiana batteries to take the city and port of New Orleans. His country honored him by creating for him the rank of rear-admiral on July 16, 1862, a rank never before used in the U.S. Navy. He was promoted for his success in opening up the Mississippi River to Vicksburg. Later that year, he passed the batteries defending Vicksburg. Port Hudson fell to him July 9, 1863.
On August 5, 1864, Farragut won a great victory at Mobile Bay. Mobile, at the time, was the Confederacy's last major port open on the Gulf of Mexico. The bay was heavily mined with tethered naval mines, known as torpedoes at the time. He ordered his fleet to charge the bay. When one ship struck a mine, the others began to pull back, but he shouted the order, "Damn the torpedoes, full speed ahead!" The bulk of the fleet succeded in entering the bay and the heroic quote became famous. He then triumphed over the opposition of heavy batteries in Fort Morgan and Fort Gaines to defeat the squadron of Adm. Franklin Buchanan.
Farragut's last active service was in command of the European Squadron, with the screw frigate USS Franklin as his flagship.
Farragut was both the first vice-admiral and full admiral of the U. S. Navy. He was also one of the first Federals to enter Richmond, Virginia after it fell to the Union. After he died, his hometown of Campbell's Station was renamed Farragut, Tennessee in his honor.
Promotions:
Midshipman -
Rear-Admiral - July 16, 1862
Vice-Admiral- December 23, 1864
Major Commands:
West Gulf Blockading Squadron