Major General Fitz-John Porter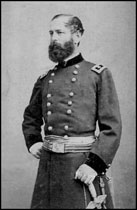 NAME
Porter, Fitz-John
BORN
August 31, 1822
Portsmouth, NH
DIED
May 21, 1901
Morristown, New Jersey
ARMY
Union
Porter graduated from West Point in 1845, ranked 8 out of 41 in his class. He was assigned to the artillery. He served in the Mexican War, being wounded at Chapultepec and earned 2 brevets. He was appointed as the Artillery and Cavalry instructor at West Point, served on the frontier, and the Utah Expedition. During the expedition, he was the adjutant for future Confederate
Gen. Albert S. Johnston
. He was the cousin of Rear-Adm. David D. Porter.
When the Civil War started, Porter was named a Colonel in the 15th U.S. Infantry on May 14, 1861, and Brigadier General 3 days later. Under the command of Major Gen. George B. McClellan, he fought in the Peninsular Campaign and the Seven Days Campaign. He directed the seige against Yorktown. After being promoted to major general, he fought at New Bridge, Hanover Court House, Mechanicsville, Gaines's Mill, Turkey Bridge, and Malvern Hill, where he played a leading role in covering the withdrawal of the Union army. For this series of battles, he was brevetted a Brigadier General in the Regular Army.
Porter's command was sent to reinforce Major Gen. John Pope in northern Virginia. At 2nd Bull Run, he was ordered to attack the flank and rear of Lieutenant Gen. Thomas J. "Stonewall" Jackson's command. But no attack was launched because the order was based upon faulty information and the indications that Lieutenant Gen. James Longstreet's army was then present on the field. An 1878 inquiry under Major Gen. John M. Schofield found that Porter was right in not committing his men to a doomed assault which Longstreet would have crushed. It further found that his actions probably saved the Army of Virginia from an even greater disaster. However, these findings came too late to save his military career.
After serving in reserve under McClellan at Antietam and at Shepherdstown, he was relieved of command on November 10, 1862, and placed under arrest. In the trial for disloyalty, disobedience of orders, and misconduct in the face of the enemy, he was damaged by his friendship for the now-deposed McClellan and his own anti-Pope statements. There was a political atmosphere to the court which was composed of Sec.-of-War Edward Stanton appointees, most of whom received their promotions, brevets, or higher commands for their service on the panel.
Porter was found guilty on January 10, 1863, and sentenced to be cashiered from the army. The sentence was carried out 11 days later, and he spent much of the remainder of his life trying to get his name cleared. The 1878, the Schofield board was a first step and, following its recommendations, President Chester A. Arthur remitted the sentence 4 years later. By a special act of Congress in 1886, he was recommissioned an infantry Colonel, to rank from May 14, 1861, but back pay was denied him.
He had been breveted Brigadier General for June 27, 1862 for his actions at Gaines's Mill. Two days later, with his battle largely won, he retired at his own request. After the war, Porter became a mine superintendent in Colorado. He was also involved in construction and the mercantile businesses. In 1869, he refused an appointment by Khedive in the Egyptian Army and served as New York City's commissioner of police, fire, and public works.
The court-martial of Porter was one of the greatest miscarriages of military justice during the Civil War. The controversy over his guilt or innocence has continued among historians, most of whom conclude that the only offense committed by him was indiscretion.
Promotions:
Colonel - May 14, 1861
Brigadier General USV- August 7,1861 (to rank from May 17)
Major General USV- July 4, 1862
Brigadier General USA- June 27, 1862 (brevet)
Major Commands:
Chief of Staff, Department of Pennsylvania (April 27- August, 1861)
Porter's Division, Army of the Potomac (October 3, 1861-March 13, 1862)
1st Division, III Corps, Army of the Potomac (March 13-May 18, 1862)
V Corps (a provisional organization until July 22), Army of the Potomac (May 18-November 10, 1862)
Site Map
| Copyright © 2012
USwars.com
,