The Battle of Savannah
December 9-21, 1864 in Savannah, Georgia
Union Forces Commanded by:
Maj. Gen. William T. Sherman
| | | | |
| --- | --- | --- | --- |
| Forces | Killed | Wounded | Captured |
| 62,000 | 200 k&w | - | - |




Confederate Forces Commanded by:
?
| | | | |
| --- | --- | --- | --- |
| Forces | Killed | Wounded | Captured |
| 10,000 | - | - | 800* |



**Missing and Captured
Conclusion: Union Victory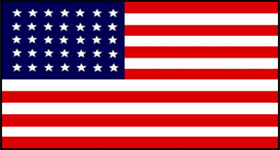 BATTLE SUMMARY
Savannah, the objective of Maj. Gen. William T. Sherman's "March to the Sea" Campaign, was georgia's largest city and one of the South's main ports. To defend it, the Confederates, early in December, mustered a garrison of 10,000 Regulars and militia commanded by Lt. Gen. William J. Hardee. These troops occupied formadible fortifications covering all sides of the city, which was surrounded by swamps, rivers, and rice fields.
On the 9th-10th, Sherman's 62,000 man army moved into positions north, west, and south of Savannah. Perceiving that the city was strongly defended, Sherman first opened communications with the Union naval fleet to obtain badly needed supplies. On the 13th, one of his divisions assaulted and captured Fort McAllister on the Ogeechee River south of Savannah. Three days later, ships steaming up the river delivered food, siege guns, and other equipment to Sherman.
On the 17th, Sherman called on hardee to surrender, threatening otherwise to destroy Savannah. Hardee, however, refused. Sherman thereupon ordered his troops to prepare to storm the Confederate fort. But at the same time, he went to the headquarters of Maj. Gen. John G. Foster, commanding Union forces in South carolina, and arranged for Foster to seal off Savannah from the east. In this way, Sherman hoped to trap Hardee and make it unnecessary to carry out a costly assault on Savannah.
But before this plan could be executed, Hardee, more concerned with preserving his army than attempting a hopeless defense of savannah, constructed a makeshift pontoon bridge across the Savannah River, over which his troops escaped into South carolina on the night of the 20th. On the 21st, a Union division occupied savannah, bringing the march to the Sea to a triumphant conclusion.