The Battle of Athens
May 2, 1862 in Athens, Alabama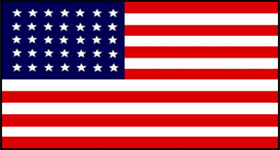 | | | | |
| --- | --- | --- | --- |
| Strength | Killed | Wounded | Missing/Captured |
| 8,000 | ? | ? | ? |
| | | | |
| --- | --- | --- | --- |
| Strength | Killed | Wounded | Missing/Captured |
| ~+mn~ 112 | ? | ? | ? |
Conclusion: Union Victory
In the spring of 1862, western Union forces followed their victory at the Battle of Shiloh with an advance into northern Alabama by an 8,000-man division commanded by Gen. Ormsby M. Mitchel. One of Mitchel's brigade commanders was Col. John Basil Turchin, a Russian known as "the Mad Cossack" who had brought his European method of brutally pillaging enemy civilians with him when he immigrated in 1856. Early in the war, Turchin's brigade, composed of the 18th Indiana Regiments, had already earned a reputation for unscrupulous foraging and for being "very much in the habit of taking everything they wanted..."
During the middle of April, the 18th Ohio had occupied the prosperous little Alabama town of Athens, whose population was about 900. On May 1, a 112-man Confederate cavalry force arrived at Athens and forced the Ohioans to make a hasty retreat to Huntsville. The cavalrymen "were greeted with cheers & a waving of hats & handkerchiefs by the citizens on the square." Reports indicated that some of the townsfolk may have fired on the fleeing Yankees from the windows of their houses.
The next morning, Turchin and his entire brigade marched into Athens without opposition, for the Confederate horsemen had left as rapidly as they had arrived. What happened next has become known as the "Rape of Athens". Turchin assembled his men and told them: "I shut my eyes for two hours. I see nothing." He then rode to a meadow outside of town and stayed there for the remainder of the day as his soldiers looted the town and terrorized its citizens. After rampaging through stores and filling their pockets with jewelry and money, the soldiers plundered private homes. At least 1 girl was raped, and the violent behavior of the soldiers caused a pregnant woman to suffer a miscarriage and die. Diarist Mary Fielding reported the soldiers' excuse for their actions; "Because our troops ran them out of town, & the citizens rejoiced to see them go, & to see our soldiers come in. I wonder what they take us for & what they expect us to do."