Columbia Prisoner of War Camp
Search, View, Print Union & Confederate Civil War Prisoner of War Records, 1861-1865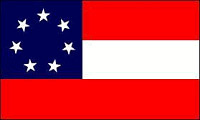 Confederate 1862-1864
Columbia, South Carolina
Columbia, South CarolinaBy January 1862, both Charleston and Columbia were housing some captured Union officers and enlisted men in Castle Pickney and in the Richland County Jail. During the period of May-November 1862, Capt. Thomas P. Whitesides' Company of York District served as prison guards for 80 Union prisoners. This company was assembled at Camp Johnson, Lightwood Knot Springs, north of Columbia, on April 25, 1862, and upon mustering into Confederate service on May 13th was designated Co. H, South Carolina Volunteers. The battalion designation was left blank because it was apparently intended that the company would become the 8th company in either the 1st (Charleston) Battalion SC Infantry, or the 3rd (James') Battalion SC Infantry, should either of those organizations be increased to a regiment.
In the event, neither became a regiment, and in November 1862, Whitesides' company was instead assigned to the 5th South Carolina infantry. The company left for Virginia on November 17, and joined the regiment in camp at Fredericksburg on 24 Nov, where it became Co. G. In addition to Whitesides, the company officers were 1st Lieutenant James M. Bird, 2nd Lt. J. C. Jackson, and 3rd Lt. H. Nichols. In some accounts, the Richland County Jail is referred to as the "Jailhouse Prison" but generally as "Richland Jail".
These individuals were confined there with other captured Union Soldiers, some Tories (Union Sympathizers), and Confederate Deserters, along with the other criminals until the fall of 1864. The Union POWs appear to be those taken in battle in South Carolina and a large percentage were Naval officers captured in and around Charleston Harbor. Union officers were housed within the cells of the jail and the non-commissioned officers and enlisted men were kept in tents in the grounds if the Jail.
There were plans all during the war to build a large POW camp near Columbia. Both the Governor and the Mayor of Columbia, citing military needs (keep closer to Union for exchange) and logisitics (the South was hard pressed for any resource and movement of POWs would consume many). The more likely reason for the Mayor is that any POW camp would cause food shortages and sky high prices. They were able to keep the number down.
By the end of The War, Union prisoners were segregated by rank into different prisons. It was thought that by separating officers and enlisted men escapes would be reduced.