Camp Lawton Prisoner of War Camp
Search, View, Print Union & Confederate Civil War Prisoner of War Records, 1861-1865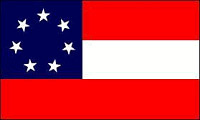 Confederate 1864
Millen, Georgia
Camp Lawton, a huge prisoner of war camp occupying 40 acres and designed to hold 40,000 men, was built in September, 1864 to relieve congestion at Camp Sumter at Andersonville and to remove the possibility of Gen. W.T. Sherman's army freeing prisoners there. Built by a force of 300 prisoners and 500 slaves, the camp was a log stockade, with guard towers on the walls, and a ditch dug within the walls for a deadline. On high ground surrounding the prison, three earthen forts were excavated and armed with cannon to prevent escape and guard from attacks. One of the reasons the prison was located here was the large, pure spring, which could supply ample water to the prisoners; and the second reason involved the Augusta Railroad, located one mile from the camp. If the camp was threatened, prisoners could be loaded on trains and moved north to Augusta or south to Savannah, and to other points from there.
The first prisoners began arriving in October, 1864. By November, 10,299 were held here. On Nov. 25, 1864, the camp was abandoned in advance of Sherman's "March to the Sea," and the prisoners were first sent to other camps, including temporary ones in Blackshear and Thomasville, Georgia, then back to Andersonville. The camp was not much better than Andersonville, and more than 700 prisoners died of disease, exposure, and malnutrition in the brief time it was open. When the Left Wing entered the prison, they were enraged at the conditions they found there, including a long, freshly filled pit with a board that read, "650 Buried Here." The Left Wing burned the stockade. Today, the spring is the site of Magnolia Springs Park. The earthworks remain and historical markers outside and inside the park tell part of the story. The railroad town of Millen had a beautiful depot and hotel which were burned when Sherman's men came through on Dec. 3, 1864. The local Chamber of Commerce, located in the new depot, built 1915, has a large picture of the prison, various displays, and a historical tour guide to homes in the county.
* Located 5 miles north of Millen on U.S. 25. One hour south of Augusta.