Charleston Guard House
Prisoner of War Camp
Search, View, Print Union & Confederate Civil War Prisoner of War Records, 1861-1865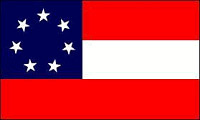 Confederate 1861- 1865
Charleston, South Carolina
By december 1861, the Charleston Guard House, on the southeast corner of Broad and Meeting Streets, was being used to confine Union prisoners. It was built 1838. It originaaly had a portico of 6 Doric columns along Broad Street and a colonade along Meeting Street. The colonade, however, was removed in 1856 to allow widening of the roadway.
The windows of this 2-story structure were covered by wrought-iron grills of a sword design. Inside, 2 tiers of cells were built around a large, vacant square court in the center. Up until the war, recalcitrant slaves had been held there. Both the Charleston County jail and the Charleston Guard House, within a week after they were opened, held their capacity of 300 prisoners each, including those originally held at castle Pinckney.
During the fire in December 1861, the Guard House suffered some damage. During the cleanup, the prisoners were sent to Castle Pinckney. After the cleanup was finished, prisoners were sent back in January 1862.
Site Map
| Copyright © 2012
USwars.com
,