Fort Massachusetts Prisoner of War Camp
Search, View, Print Union & Confederate Civil War Prisoner of War Records, 1861-1865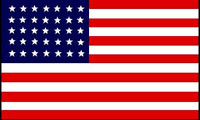 Union 1864-1865
West Ship Island, Mississippi
Fort Massachusetts was also known as and called Ship Island. The fort was one of the last Third System forts constructed. The fort was located on Ship Island. It is a long, narrow barrier island about 10 miles off the coast of Mississippi, between Biloxi and Gulfport. The importance of this location is the strategic deep water harbor located near the island. The British Army used Ship Island to stage their invasion of New Orleans in the War of 1812.
Construction of Fort Massachusetts did not began until 1859. It had been built as a defense fortification. By the beginning of the Civil War, little had been completed. It was occupied by the Confederates until early 1862, when it was abandoned to the Federals. The island was later used by Union troops to stage their invasion of New Orleans. Construction of the fort continued during the Civil War, with supplies brought in by ship from the North. Construction ended by 1866. The fort was never fully armed, and only manned by caretaker detachments from the end of the Civil War until its abandonment by the army around 1900.
The first Confederate prisoners, 1,229 of them, were shipped to the fort in October 1864. Most of the prisoners had been captured in Confederate hospitals in recently captured Southern cities and towns.
The guard duty at the prison was done by the 74th U.S. Colored Infantry and the 77th Illinois Volunteers
LIFE & CONDITIONS:
Upon arriving at the fort, the prisoners were held on the parade ground. There wasn't any shelters built for them, and there wasn't any lumber to be used for construction either. After numerous complaints and requests, some used, dilapitated tents finally arrived for the prisoners along with 500 sets of clothing. The tents were issued to them but the clothes weren't. The reason why was that an arrangement had been made by each government that they was to furnish its own prisoners with necessary supplies. As a result of this, the prisoners continued to suffer from exposure. The construction of prisoner barracks had been proposed, but was never approved. In April 1865, the prison reached its all-time high population of 4,356 prisoners.