The Battle of Fort Tyler
April 16, 1865 in Fort Tyler, Alabama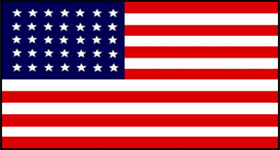 | | | | |
| --- | --- | --- | --- |
| Strength | Killed | Wounded | Missing/Captured |
| ~+mn~ ? | 7 | 32 | ? |
| | | | |
| --- | --- | --- | --- |
| Strength | Killed | Wounded | Missing/Captured |
| 130 - 265 | 18 | ? | ? |
Conclusion: Union Victory
Fort Tyler is located near the town of Lanett, and was originally built in 1863. It was constructed to defend the bridge over the Chattahoochee River to West Point, Georgia. West Point was the junction of the railroad between Atlanta and Montgomery, and remained an important rail center. The bridge over the Chattahoochee River, that Fort Tyler guarded, was the vital center of gravity for Union cavalry forces under Col. Oscar H. LaGrange to strike in April. His force was part of Brig. Gen. J.H. Wilson's cavalry force.
Fort Tyler was an earthen fortification covered 35-square yards in area, and was surrounded by a ditch that was 7-12 feet wide and 6-10 feet deep. The entrance to the fort was also reinforced by an 8-foot interior wall. Brig. Gen. Robert Charles Tyler commanded the 130-265 man garrison. LaGrange's force included units from Kentucky, Indiana, and Wisconsin.
On April 16, with Union forces started an artillery barrage against the fort. This initial cannon fire was answered with counter fire from the Confederate guns. The Union fire forced the Confederate pickets to retreat inside the protection of the fort's earthworks. With LaGrange's primary objective being to capture the bridge over the river, his secondary objective was striking the fort. The main Union line was set up 50 yards away from the fort. LaGrange's troops used wood to effectively pass over the fort's ditch. Meanwhile, a cavalry detachment made a fast dash over the bridge to West Point, which cannon fire from Fort Tyler was unable to stop. After brief resistance from a small Confederate force, the bridge to West Point was captured. Additionally, the fort put up more difficult resistance, although the Union had been successful in putting several wooden planks over the fort's ditch into position. In spite of this, rifle fire from Fort Tyler's defenders initially slowed the Union advance. This action, along with the attack on Fort Tyler, was part of the Battle of West Point, Georgia. 
After capturing the Chattahoochee River bridge, LaGrange's attention returned to the attack on Fort Tyler. The Union artillery increased its concentrated fire on the fort and rendered the Confederate artillery inoperable. During this barrage fire, Tyler was wounded and killed. Col. James H. Fannin took command as the Confederate garrison was running low on ammunition and suffering from increasing casualties. With 18 men killed in the engagement, Fannin was forced to surrender to LaGrange.
After securing the fort, LaGrange went into West Point and burned the town's rail yard including 19 locomotives, 200 train cars, and a large amount of other supplies.