The Battle of Farmville
April 7, 1865 in Farmville, Virginia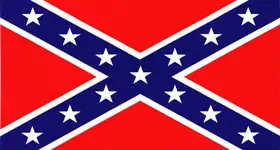 | | | | |
| --- | --- | --- | --- |
| Strength | Killed | Wounded | Missing/Captured |
| ~+mn~ ? | ? | ? | ? |
| | | | |
| --- | --- | --- | --- |
| Strength | Killed | Wounded | Missing/Captured |
| 26,000 est. | ? | ? | ? |
Conclusion: Confederate Victory
For 4 days Gen. Robert E. Lee's ragged Army of Northern Virginia had been plodding west, trying to find a way around Gen. Ulysses S. Grant's pursuing Army of the Potomac. Ever since evacuating the entrenchments at Petersburg on April 2, Lee's starving army had been fighting during the day and marching at night. With the route south to North Carolina securely blocked by Union troops, Lee had no choice but to continue marching his exhausted soldiers west. He ordered food to be sent by rail from Lynchburg to the town of Farmville, 25 miles away on the south side of the Appomattox River. There he could get the much-needed food, cross over the river while burning the bridges behind him, and rest his men before trying to find a way to move south.
On April 6, disaster struck. The pursuing Union troops had taken advantage of a gap in the Confederate column and, in the Battle of Sayler's Creek, cut off and captured 1/3 of Lee's men. Maj. Gen. Philip H. Sheridan reported the victory to Grant, adding, "If the thing is pressed I think Lee will surrender." Hearing of the message, Lincoln wired Grant, "Let the thing be pressed."
On April 7, the remaining portion of Lee's army reached Farmville and the food in the waiting boxcars. Before most had finished cooking their bacon and cornbread, however, word came that Union troops were rapidly approaching from the east, on the north side of the river, having crossed a bridge 4 miles away. Lee had ordered the bridge destroyed, but the Union soldiers had arrived in time to put out the flames and then crossed in force.
The partially cooked meals were abandoned as Lee's famished soldiers fell in to meet the threat. The bedraggled army held the Union soldiers at bay until dark and then began marching west again, toward Appomattox Courthouse. At 10:00 P.M., Lee received a message from Grant requesting his surrender. Without comment Lee passed the note to Gen. James Longstreet, who read it and, looking up, said, "Not yet."