The Battle of Sutherland's Station
April 2, 1865 in Dinwiddie County, Virginia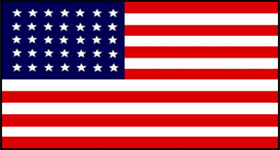 | | | |
| --- | --- | --- |
| Strength | Killed & Wounded | Missing/Captured |
| ~+mn~ ? | 370 | ? |
| | | |
| --- | --- | --- |
| Strength | Killed & Wounded | Missing/Captured |
| ~+mn~ ? | 600 | 1,000 |
Conclusion: Union Victory
Appomattox Campaign
The Army of the Potomac launched a massive assault at4;30 A.M. on April 2nd on the Confederate earthworks west of Petersburg. for 10 months, the Army of Northern Virginia had repulsed the Union army, but not on this day. Four Union corps advanced against the thinly held Confederate entrenchments, with the VI Corps making the decisive breakthrough. The Confederate line began to unhinge, and from hatcher's Run to Boydton Plank Road, the Federals gained the works.
Gen. Robert E. Lee, with his front crushed, issued orders for an evacuation of Petersburg, but he needed time to regroup and undertake the retreat. At Fort Gregg, 500 Confederate defenders ferosiously repulsed Union attacks, giving Lee time to erect an inner line to prtect the army's rear. The Union assault stalled after the bloody capture of the fort.
To the west, along the Southern Railroad, toward Five Forks, Maj. Gen. Andrew A. Humphreys' II Corps seized the Crow salient and pursued up the Clairborne road. While the battle raged around Fort Gregg, maj. Gen. Nelson A. Miles's division of Humphreys' corps moved on Sutherland's Station where maj. Gen. Henry Heth's Confederate division had regrouped. Gen.-in-Chief Ulysses S. Grant, directing the operations, had specifically ordered only Miles to press Humphreys' breakthrough.
Miles charged Heth about 3:00 P.M. The Confederates buckled under the assault, then broke. The oncoming Federals captured nearly 1,000 prisoners and 2 cannon. Grant delayed the final attack on the fort while he awaited the outcome of Miles's operation, apparently exaggerating the importance of this minor engagement. The defense of Fort Greeg and Grant's hesitation permitted Lee to evacuate his army that night.