The Battle of Quaker Road/ Lewis's Farm
March 29, 1865 in Dinwiddie County, Virginia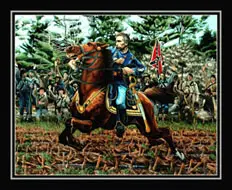 | | | | |
| --- | --- | --- | --- |
| Strength | Killed | Wounded | Missing/Captured |
| 50,000 est | 177 | 1,134 | 544 |
| | | | |
| --- | --- | --- | --- |
| Strength | Killed | Wounded | Missing/Captured |
| ~+mn~ ? | 135 | 400 | 100 |
Conclusion: Union Victory
Appomattox Campaign
The Battle of Lewis's Farm was also known as the Battle of Quaker Road, Military Road, or Gravelly Road. The battle was the opening of the Appomattox Campaign, which Gen. Robert E. Lee's army was dislodged from their besieged lines around Petersburg, and began a retreat that would lead them to surrender at Appomattox Court House.
This battle was the second engagement fought by Maj. Gen. Gouvernor K. Warren's V Corps in Gen. Ulysses S. Grant's spring 1865 offensive. As Grant began his westward swing toward the South Side Railroad that supplied Lee's army at Petersburg, he sent out a force of about 50,000 men that included Maj. Gen. Philip Sheridan's cavalry and 2 infantry corps: the Warren's V Corps and Maj. Gen. Andrew Humphreys' II Corps.
On March 29, Sheridan marched with the army's cavalry, followed by the V Corps, toward Dinwiddie Court House to turn the right flank of Lee's Petersburg defenses. Warren's V Corps crossed Rowanty Creek, moved up the Quaker Road toward the Boydton Plank Road intersection, and encountered Brig. Gen. Bushrod Johnson's brigades. A sharp firefight forced the Confederates back to their entrenchments on the White Oak Road. Warren was able to gain a foothold on nearby Boydton Plank Road. Control of this road was of strategic value, as it provided the main route for supplies from North Carolina to Lee's Army of Northern Virginia.
On March 30, Warren pushed his men as close to the White Oak Road defense line as possible and had them build slight breastworks.
On March 31, Lee was visiting the White Oak Road lines when informed that Union forces were forming in his front to gain control of the road. Lee sent most of a division forward in the early morning to attack Warren before the Union troops could launch their attack. Fighting through the morning, the Confederate brigades enveloped and put to flight 2 Union divisions in succession. As the fight progressed, the Confederates met stiffening resistance, and by 3:00 P.M. came to a halt and began to convert captured Union breastworks for their own use.
At this time, Warren ordered a counterattack which successfully drove the Confederates back to their entrenchments along the White Oak Road. Union forces also secured a lodgment on the road, effectively blocking the Confederates holding the vital road junction at Five Forks, a few miles to the west from sending reinforcements. However, Warren deemed the Confederate defenses too strong to assault, ending the fighting for that day.
The brigade of Brig. Gen. Joshua Lawrence Chamberlain was conspicuous in the engagement, leading the main advance. Lt. Gen. Richard H. Anderson ordered 2 brigades that had dug in to move forward to intercept Chamberlain, who, although wounded, rallied his troops with the help of a 4-gun battery. Reinforced, Chamberlain counterattacked and captured the Confederate earthworks.