The Battle of Fayetteville
March 11, 1865 in Fayetteville, North Carolina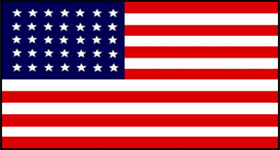 | | | | |
| --- | --- | --- | --- |
| Strength | Killed | Wounded | Missing/Captured |
| 67 | 11 | ? | 12 |
| | | | |
| --- | --- | --- | --- |
| Strength | Killed | Wounded | Missing/Captured |
| ~+mn~ ? | ? | ? | ? |
Conclusion: Union Victory
By early March, the bummers and incendiaries of Maj. Gen. William T. Sherman's armies had laid waste to vast portions of South carolina. though milder, the Union treatment of North Carolina, into which they began crossing on the 3rd, was harsh enough to linger in residents' minds for decades.
Early on the morning of the 11th, in advance of the main Union command, 67 cavalrymen under Capt. William R. Duncan clattered into fayetteville, the first sizable Tarheel community on Sherman's route. At once, they clashed with Lt. Gen. Wade Hampton and a small detachment of his cavalry that had spent the previous night there. The Federals might have nabbed Wade but for the viligance of one of his scouts who rounded up a mounted force much smaller but more aggressive than Duncan's. Charging down the other end of town, they stampeded the Federals, killing 11 and capturing 12 men, including Duncan.
Fayetteville's deliverance was short-lived. Hampton and his men soon rode north, just before a 200-troop detachment of Brig. Gen. Giles A. Smith's 4th Division/XVII Corps entered the city. Added by Duncan's survivors, the newcomers took possession of Arsenal Hill, a commanding eminence. They chased Hampton's rear guard over the Cape Fear River Bridge but could not prevent the retreating cavalry from burning it. Soon, Sherman's advance body trooped in, secured the town, and formally received its surrender from Mayor Archibald McLean.
During the 5 days the Union army occupied the town, little personal violence was inflicted on the citizens, but the destruction of property useful to the confederacy was extensive. The Federals torched the city's U.S. arsenal, which had been furnishing weapons to the South since early in 1861, as well as all railroad property, factories, tanneries, gristmills, cotton mills, warehouses, and banks. The offices of 3 newspapers were also burned, while many private residences were ransacked before the establishment of a city-wide provost guard by Brig. Gen. Absalom Baird, whom Sherman appointed military governor of Fayetteville.