The Battle of Waynesborough
March 2, 1865 in Waynesborough, Virginia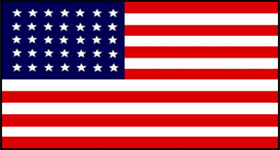 Union Forces Commanded by
Maj. Gen. Philip Sheridan
| | | | |
| --- | --- | --- | --- |
| Strength | Killed | Wounded | Missing/Captured |
| ~+mn~ 2,500 | ? | ? | ? |
Confederate Forces Commanded by
Lt. Gen. Jubal Early
| | | | |
| --- | --- | --- | --- |
| Strength | Killed | Wounded | Missing/Captured |
| ~+mn~ 1,600 | ? | ? | ? |
Conclusion: Union Victory
On February 27, Maj. Gen. Philip Sheridan with 2 cavalry divisions, numbering 10,000 men, rode from Winchester up the Shenandoah Valley to Staunton. Directed by Lt. Gen. Ulysses S. Grant to destroy the Virginia Central Railroad and James River Canal and capture Lynchburg, if possible, Sheridan advanced, covering 30 miles the first day.
In Staunton, over 90 miles southward, Lt. Gen. Jubal A. Early, commanding a remnant of his once-fearful Valley army, endeavored to thwart Sheridan's movement. Throughout the 28th, fewer than 200 Confederate cavalry vainly sniped at the overpowering Union command. Only streams, swollen by winter freshets and icy rainstorms, hampered the Union advance, which arrived at Staunton on March 1st. The Federals found deserted streets and empty warehouses, their contents emptied by Early's troops.
Sheridan entered the town the next morning and ordered Maj. Gen. George A. Custer's cavalry in pursuit. Custer's troopers encountered Brig. Gen. Gabriel C. Wharton's 1,700 Confederates on a range of low hills in front of Waynesborough. With his back to a swollen river, Wharton stretched his line of troops to critical limits.
The enterprising Union cavalry officer carefully reconnoitered the Confederate position, discovering a gap of 1/8 mile between Wharton's left flank and the river. Shortly after 3:30 P.M., 3 dismounted Union regiments knifed into the gap. The stunned Confederates managed to fire a few shots before running. A Union brigade then galloped into Wharton's center., and the Confederate line dissolved. Early tried to rally his men before fleeing himself. In the rout, more than 1,500 Confederates were captured, along with nearly 200 wagon, 14 cannon, and 17 flags. Early and a few of his staff evaded capture.
Sheridan crossed the Blue Ridge to Charlottesville and then raided south, destroying the James River Canal locks near Goochland Court House. For the next 25 days, Sheridan ravaged the area north of the James River before joining Grant at Petersburg. He joined forces with the Army of the Potomac near Petersburg on March 26 for the opening of the Appomattox Campaign.
The engagement at Waynesborough closed the Shenandoah Valley chapter of the Civil War.
Site Map
| Copyright © 2012
USwars.com
,