The Battle of Douglas Landing
February 22, 1865 in City/County, Arkansas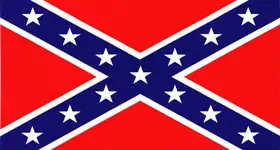 Union Forces Commanded by
Capt. Gurnsey W. Davis
| | | | |
| --- | --- | --- | --- |
| Strength | Killed | Wounded | Missing/Captured |
| ~+mn~ 50 | ? | ? | ? |
Confederate Forces Commanded by
Col. John B. Clark, Jr.
| | | | |
| --- | --- | --- | --- |
| Strength | Killed | Wounded | Missing/Captured |
| ~+mn~ ? | ? | ? | ? |
Conclusion: Confederate Victory
On the morning of February 21st, Capt. Gurney W. Davis led a detachment of 50 men of the 13th Illnois Cavalry from Pine Bluff down the Arkansas River to Douglas Landing, camping that night in a torrential downpour. While there, Davis learned that Confederates had been seen down the river about 3 miles and were expected to move on the landing to burn cotton to prevent it from being captured by Union troops.
With the rain too heavy to allow him to move out, he doubled his pickets and decided to wait out the storm. The Confederates, however, moved first and about 1:00 A.M., attacked his outposts on both sides, then sent a volley directly into the main body of his small command, huddled for protection under a shed. The Federals returned fire, holding the Confederates long enough to get their horses out into line. Davis mounted his command, cared for his casualties (4 wounded) and ordered his men to retire. They returned to Pine Bluff that night after encountering several other roaming parties of Confederate cavalry.
Davis had been both scouting and foraging but returned without the cattle he sought- and with little information other than that small parties of Federals like his were in constant danger in the Arkansas outback. The identity of the Confederates who attacked him was uncertain, though he believed their leader to be the notorious Col. John B. Clark, Jr., one of scores of partisan and raider leaders who constantly tormented the Federals in Arkansas and throughout the Trans-Mississippi. These leaders were largely responsible for making it almost impossible for Pres. Lincoln to effectively take and hold the western Confederacy.
Site Map
| Copyright © 2012
USwars.com
,