The Battle of Memphis
August 21, 1864 in Memphis, Tennessee
Union Forces Commanded by:
Maj. Gen. C.C. Washburn
| | | | |
| --- | --- | --- | --- |
| Forces | Killed | Wounded | Captured |
| 6,000 | 30 | 100 | 500 |




Confederate Forces Commanded by:
Brig. Gen. Nathan B. Forrest
| | | | |
| --- | --- | --- | --- |
| Forces | Killed | Wounded | Captured |
| 2,000 | 100 k&w | - | - |



**Missing and Captured
Conclusion: Confederate Victory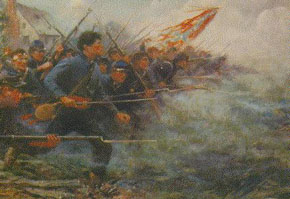 BATTLE SUMMARY
At 4:00 A.M. on the morning of August 21, Maj. Gen. Nathan B. Forrest made a daring raid on Union-held Memphis, Tennessee, but it was not an attempt to capture the city, occupied by 6,000 Union troops. The raid had 3 objectives:  to capture 3 Union generals posted there;  to release Confederate prisoners from Irving Block Prison; and to cause the recall of Union forces from northern Mississippi. Striking northwestward for Memphis with 2,000 cavalry, Forrest lost about 1/4 of his strength because of exhausted horses. Surprise was essential. 
Taking advantage of a thick dawn fog and claiming to be a Union patrol returning with prisoners, the Confederates eliminated the sentries. Galloping through the streets and exchanging shots with other Union troops, the raiders split to pursue separate missions.  One Union general was not at his quarters and another escaped to Fort Pickering dressed in his night-shirt. The attack on Irving Block Prison also failed when Union troops stalled the main body at the State Female College.
After 2 hours, Forrest decided to withdraw, cutting telegraph wires, taking 500 prisoners and large quantities of supplies, including many horses. Although Forrest failed in Memphis, his raid influenced Union forces to return there, from northern Mississippi, and provide protection.