The Battle of Blue Springs
October 10, 1863 in Greene County, Tennessee
Union Forces Commanded by:
Maj. Gen. Ambrose E. Burnside
| | | | |
| --- | --- | --- | --- |
| Forces | Killed | Wounded | Captured |
| - | 100 k&w | - | - |




Confederate Forces Commanded by:
Brig. Gen. John S. Williams
| | | | |
| --- | --- | --- | --- |
| Forces | Killed | Wounded | Captured |
| - | 216 k&w | - | - |



**Missing and Captured
Conclusion: Union Victory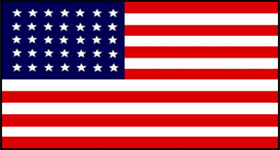 BATTLE SUMMARY
Brig. Gen. John S. Williams' 1,500 man cavalry drove federal cavalry from Jonesborough, Tennessee on September 29th, occupied the town, then received word to wait. Ordered southwest from Blountsville by District Commander Maj. Gen. Samuel Jones, Williams screened a large troop movement, the last independent attempt to push Maj. Gen. Ambrose E. Burnside's Federals out of East Tennessee before the Knoxville Campaign.
Maj. Gen. Robert Ransom and infantry arrived in Jonesborough on October 1st. Williams, given an additional detachment of 200 men, was instructed to march southwest near Bull's Gap on the East Tennessee & Virginia Railroad and demonstrate strength; then Ransom's troops were to push northwest and retake Cumberland gap, which the Confederates had surrendered to Burnside on September 9th.
On October 3rd, while advancing on Bull's Gap, Williams fought with Brig. Gen. Samuel P. Carter's Union Cavalry Division, XXIII Army Corps, at Blue Springs, about 9 miles from Bull's Gap, on the railroad. Carter, not knowing how many of the Confederates he faced, withdrew. Carter and Williams skirmished for the next few days. Williams received unsettling word from Ransom: Williams had overstepped his advance. Ransom had intended to move no farther than Greeneville, 8 miles to the rear. Because Williams' operations would cut communication, Ransom also conferred on him command of all remaining troops in East Tennessee.
Anxious for Ransom's success at Cumberland gap, Williams decided against retiring to Greeneville as ordered, which would have exposed his actual strength and intent. Brig. Gen. Alfred E. Jackson, somewhere north, commanded 400 infantry and home guards, the only other Confederates within 80 miles. Williams sent back scouts to find him, then employed ruses to show strength: extra campfires were lighted, and drummers and buglers sounded rolls and calls for large numbers of nonexistent troops.
Carter probed the Confederate front again around the 7th, skirmished, and withdrew; at 10:00 A.M. on the 10th, he returned in force. From Bull's Gap, Burnside advanced a Union cavalry brigade, then followed with an infantry division. The cavalry covered the field throughout the day while Williams retired east of Blue Springs, deploying his battle line in front of a ridge and positioning a battery of 4 cannon and a battery of Williams rapid-fire guns in the rear. Federals were reinforced steadily, persistently attacking and extending their lines, forcing Confederates to extend theirs. At 5:00 P.M., Burnside's infantry division rushed Williams' thin center over undulating and wooded ground. The Confederatre right and left folded back, Federals rushed within 250 yards of their rear, then canister and rapid-fire guns opened up on them. Burnside's column crumpled, ran for woods on the Confederate left, and dissolved under infantry fire. Survivors retreated as night fell, and Confederates resumed defensive positions.
Williams raced to the Greeneville telegraph to wire Maj. Gen. Jones about his predicament. There, he learned the Cumberland Gap expedition had been canceled. The Blue Springs fight had been unnecessary. Subordinates organized the withdrawal as Brig. Gen. Alfred E. Jackson's troops marched into Greeneville. Together, the 2 Confederate forces hiked north the same way they had come. At daybreak, they clashed with Union cavalry astride the retreat line, then at Rheatown hit a larger force in the afternoon, fighting their way through. Confederates had a last brush with Union cavalry on the 13th at Blountsville, then marched north across the Virginia state line to Jones at Abingdon.
Repercussions from Williams' sacrificial march to Blue Springs are unrecorded, but on November 4th, he requested relief from command, later transferring to Maj. Gen. Joseph Wheeler's cavalry.