Union Forces Commanded by:
Lt. James B. Pond and Maj. Gen. James G. Blunt
| | | | |
| --- | --- | --- | --- |
| Forces | Killed | Wounded | Captured |
| 90 + 100 | 54 | 18 | 5 |




Confederate Forces Commanded by:
Lt. Col. William C. Quantrill
| | | | |
| --- | --- | --- | --- |
| Forces | Killed | Wounded | Captured |
| 400 | 3 | - | - |



**Missing and Captured
Conclusion: Confederate Victory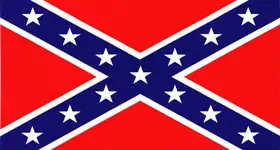 BATTLE SUMMARY
In late September, fresh from sacking Lawrence, Kansas, Col. William C. Quantrill led his band of bushwhackers south from Blue Springs. With the coming of cold weather, the raider realized that profitable operations in Kansas were over for the year. His force augmented by guerrilla units under William C. "Bloody Bill" Anderson and Col. John Holt, Quantrill headed toward Indian Territory, where he planned to winter.
By October 6, his 400 bushwhackers were heading south on the Fort Scott Road when their advance, under Quantrill's subordinate, Dave Poole, captured 2 Union teamsters. Before killing the hated federals, the raiders ascertained their destination: a small garrison at Baxter Springs, some miles farther south. hitherto ignorant of the post's location, Quantrill decided to attack and loot it. While Poole's band continued down the main road, Quantrill led his men north of the fort's reported location to mount a 2-pronged assault.
Arriving at his destination, Poole led his men against the small dirt-and-log fort they found there. Their opponents, some 90 Union soldiers, most of them black, were under Lt. James B. Pond, 3rd Wisconsin Cavalry. Experienced in fighting guerrillas, Pond prepared to defend his post, although his men, most of whom had assembled for a midday meal at a mess station some distance from the fort, were at a great disadvantage. Caught unarmed, they broke and fled from Poole's men, who, shouting and shooting, ran them down. Many of the soldiers were overtaken and gunned down at close range. Only quick action by pond, who trundled out a small howitzer and blasted the terrorists into retreat, prevented a massacre of the entire garrison.
At the same time, Quantrill's main force was also heavily engaged. Leading his troops out of a neck of woods above the outpost, he had spied the approach of a line of wagons, escorted by Union cavalry. The wagons turned out to be the personal retinue of Maj. Gen. James G. Blunt, who was transferring the headquarters of his Army of the Frontier from Fort Scott to Fort Smith, Indian Territory. The 100 or so men in this column carried equipment and weapons of value to the bushwhackers and were too few to make much resistance. Accordingly, Quantrill forgot about the fort and prepared his men for a charge.
Noting the captured blue uniforms worn by many of the guerrillas, Blunt took the strangers to be an honor guard from Baxter Springs and approached them incautiously. Only when George Todd, one of Quantrill's lieuttenants, led a screaming band of raiders against him, did Blunt realize his error. Though he managed to reach safety on a swift horse, as did some of his mounted men, those in the wagons, including a military band and Maj. Henry Z. Curtis, were overtaken and dispatched without mercy. most were found shot in the head, some stripped, burned, and mutilated.
Survivors made their way to Fort Scott, where Blunt, for his negligence in failing to protect his column, was relieved of command. Meanwhile, at Baxter Springs, as his men looted corpes, a drunken Quantrill was invoking the names of 2 prominent Confederate generals, exclaiming: " By God, Shelby could not whip Blunt, neither could Marmaduke, but I whipped him! " Touted as a massacre by some, Baxter Springs was another of the events that characterized the vicious Kansas-Missouri border warfare.