The Battle of Blountsville
September 22, 1863 in Blountsville, Tennessee
Union Forces Commanded by:
Col. John W. Foster
| | | | |
| --- | --- | --- | --- |
| Forces | Killed | Wounded | Captured |
| - | 5 | 22 | - |




Confederate Forces Commanded by:
Col. James E. Carter
| | | | |
| --- | --- | --- | --- |
| Forces | Killed | Wounded | Captured |
| 1,200 | 16 | 50 | 100* |



**Missing and Captured
Conclusion: Union Victory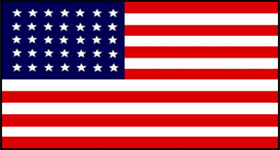 BATTLE SUMMARY
Maj. Gen. Samuel Jones' small force descended on the Tennessee & Virginia Railroad from the north in mid-September to counter Maj. Gen. Ambrose E. Burnside's pacification efforts in northeast Tennessee. Jones wanted the railroad for supply lines north to Virginia; Burnside wanted it for communication lines south to Knoxville. The hamlet of Blountsville, just west of Carter's depot, southeast of Blountsville on the rail line, had been passed back and forth between the enemies for several days. These moves were preliminaries to the Knoxville Campaign.
On the 2oth, Jones's troops, holding the village of Zollicoffer, 6 miles west of Blountsville, lured Federals west from the hamlet for a fight. When the skirmishing broke off, The Federals retreated through Blountsville and Carter's Depot, and Confederates occupied both. Jones believed that in days ahead Burnside would try to divert him at Zollicoffer or Blountsville while trying to retake Carter's Depot and secure the railroad. Burnside sent a letter through the lines on the 22nd asking that villages near the railroad north of the Watauga be evacuated by 5:00 P.M. He also wrote Jones that he expected to use artillery on the hamlets; later Jones noted he received the message at 4:30 P.M.
Col. John Foster led the 2nd Cavalry Brigade/ 4th Division/ XXII Corps, to the banks of the Watauga and skirmished across at 9:00 A.M. on the 22nd, heading north for Blountsville. Confederates, commanded by the 1st Tennessee Cavalry's Col. James E. Carter withdrew, fighting to the edge of town. Foster's men stumbled into a prepared Confederate position and 4 cannon, and a 4 hour fight ensued through late afternoon. Three Union regiments charged the Confederate position near nightfall and pushed them from the town. Foster wrote that "the shells of the enemy set fire to the town and a great portion of it was consumed".
Jones wrote that "the enemy had, in an artillery dual with one of my batteries at Blountsville, fired upon and burned the best part of that village". This began a small controversy over the integrity of Foster's report and Burnside's warning letter. Confederates, too few to man Zollicoffer and Carter's Depot with the Union between, consolidated at Zollicoffer, and Burnside temporarily took the railroad. Blountsville was the initial step in the Union's attempt to force Confederate Maj. Gen. Sam Jones and his command to retire from East Tennessee.