The Battle of Rocky Gap
August 26, 1863 in White Sulphur Springs, West Virginia
Union Forces Commanded by:
Brig. Gen. William W. Averell
| | | | |
| --- | --- | --- | --- |
| Forces | Killed | Wounded | Captured |
| 2,000 | 26 | 125 | 67 |




Confederate Forces Commanded by:
col. George S. Patton
| | | | |
| --- | --- | --- | --- |
| Forces | Killed | Wounded | Captured |
| 1,900 | 20 | 129 | 13* |



**Missing and Captured
Conclusion: Confederate Victory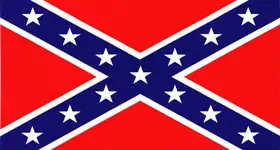 BATTLE SUMMARY
Brig. Gen. William W. Averell, with 4 regiments of cavalry and mounted infantry and 2 artillery batteries, left Winchester, Virginia on August 5th, marching westward toward Allegheny Mountains. The federals were on another in a series of raids that plagued this backwater area throughout the war. Averell's mission was to destroy Confederate saltpeper and gunpowder works near franklin, West Virginia and attack Col. William L. Jackson's Confederate cavalry brigade, reportedly located at Huntersville.
Averell's command, numbering about 2,000 men, covered 58 miles the first 2 days, reaching Morrefield, West Virginia late on the 6th. Nearby, advanced Confederate outposts skirmished with the federals, before disappearing into the rugged terrain. The Federals resumed their march on the 9th, heading southward, deeper into the mountain fastnesses, a lack of supplies, hoseshoes, and nails and insufficient ammunition hampering their progress. By the 22nd, the Union force had dislodged Jackson from Huntersville, with the Confederate eventually retreating to Warm Springs.
Averell trailed jackson on the 24th, shoving the Confederates eastward and occupying Warm Springs. The Federals marched to Callaghan's Station the next day, destroyed the saltpeper works on Jackson's River, and prepared to move to White Sulphur Springs on the 26th. The Union advance resumed at 4:00 A.M. on the 26th, moving westward. At Rocky Gap in the Alleghey Mountains, about 2 miles from White Sulphur Springs, the Federals encountered 4 regiments of Virginia infantry and an artillery battery, numbering 1,900 men, under Col. George S. Patton.
Patton, directed by department commander Maj. gen. Samuel Jones to intercept Averell, arrived at the mountain defile at about 9;30 A.M.. Averell quickly shook out a battle line and charged the waiting confederates, who had deployed across the road. The rifle fire quickly escalated as the Federals, most of them dismounted, assaulted the Virginians. The battle raged all day as one Union attack after another was repulsed in the heavily wooded terrain.
Expecting reinforcements that never arrived, Averell did not withdraw during the night. Resuming his attacks that next morning, he again made little headway against Patton's veterans. By noon, the Union force had abandoned the field, countermarching toward Callaghan's Station.
For the next 3 days, Averell retreated northward, arriving at beverly, West Virginia on the 31st. Except for the engagement at Rocky gap, he had inflicted few casaulties, captured only a handful of confederates, destroyed 2 saltpeper works, and seized some cattle.