The Battle of Buffington Island
July 19, 1863 in Buffington Island, Ohio
Union Forces Commanded by:
Brig. Gen. Edward H. Hobson
| | | | |
| --- | --- | --- | --- |
| Forces | Killed | Wounded | Captured |
| 10-12,000 | 25 k&w | - | - |




Confederate Forces Commanded by:
Brig. Gen. John Hunt Morgan
| | | | |
| --- | --- | --- | --- |
| Forces | Killed | Wounded | Captured |
| 1,700 | 52 | - | 1,200* |



**Missing and Captured
Conclusion: Union Victory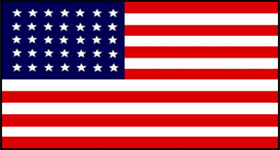 BATTLE SUMMARY
On July 13, Morgan's raiders crossed into Ohio at Harrison, pursued by several columns of Union cavalry under overall direction of Brig. Gen. Edward H. Hobson. Following a series of running skirmishes across the width of Ohio, the Federals, led by Hobson, were trying to catch up to Morgan's men.
Morgan's last, best hope for escape was the Ohio River crossing at Buffington Island, north of Pomeroy, Ohio. On the morning of July 19, Morgan's troops awoke and saddled up to make their crossing when they were assailed by Gen. Henry Judah's Union cavalry. Before the Confederate unit could react, they also were attacked by their pursuers, Union cavalry under Hobson and James Shackleford, as well by two gunboats steaming up the river.
There, in a day-long, running fight, 10-12,000 Union infantry and cavalry engaged Morgan's men in a fight known today as the Battle of Buffington Island. There, blueclad forces commanded by Brig. Gens. Henry Judah, James Shackelford and Edward Hobson, clashed with Morgan's force in the narrow flood plain on the Ohio side of the river, with the safety of Virginia enticingly beckoning the Southern cavalier from across the river.
When the Union forces finally caught up to Morgan's column, around 3:00 P.M., Morgan requested an hour to decide whether to surrender. Shackelford granted the truce, which Morgan used to prepare a defense. Judah's force pinned down Morgan's men, while Hobson's column flanked the Confederates. Bearing down, Hobson's 4,000 troopers charged into Morgan's column. Maj. Daniel McCook, aged 65, and the father of the famous Fighting McCook brothers, was mortally wounded in the opening volleys of the fight.
Morgan's men were driven back across the flat, wide-open flood plains of the Ohio River. Their line of escape across the river was cut off by the presence of the three Federal gunboats, and the Confederate troopers had to fight their way out, finally running a gauntlet. Morgan's brother-in-law, and chief lieutenant, Col. Basil W. Duke, was captured, as were nearly 1,200 of Morgan's "terrible men", including the commanding generals' younger brother John Morgan. Most of those captured were imprisoned in the Ohio Penitentiary, located in Columbus. Fifty-two of Morgan's men lay dead on the field.
During the night, Morgan and his 400 or so remaining men escaped. Little did he know that his raiding days were just about to end. Morgan and the remnant of his troops rode north to near Lisbon, Ohio, where he would eventually be captured July 26.