The Battle of Falling Waters
July 14, 1863 in Falling Waters, Maryland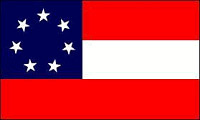 Union Forces Commanded by
Maj. Gen. George B. Meade
| | | | |
| --- | --- | --- | --- |
| Strength | Killed | Wounded | Missing/Captured |
| - | - | - | - |
| | | | |
| --- | --- | --- | --- |
| Strength | Killed | Wounded | Missing/Captured |
| - | - | - | 719 |
Conclusion: Inconclusive Victory
The Confederate retreat from Gettysburg began on July 4th as the defeated Army of Northern Virginia wearily filled the Pennsylvania and Maryland roads for 3 days, its wagon train of wounded alone stretching for 17 miles. Heavy downpours hampered the march, but Gen. Robert E. Lee's confederates reached the Potomac River at Willaimsport, Maryland on the afternoon of the 6th and continued to arrive into the morning hours of the 7th.
Since the rains had swelled the river, making it unfordable, Lee ordered the construction of pontoon bridges while his infantry and artillery erected a defensive line from Williamsport to Falling Waters. Little occured except for cavalry clashes and skirmishes until the 12th, when Maj. Gen. George B. Meade's pursuing Army of the Potomac arrived opposite the Confederate position. The Federals, battered at Gettysburg as badly as the Confederates, simply entrenched before the Confederate works.
By the next day the Potomac was passable at Williamsport, and the Confederate engineers had completed the pontoon bridge at Falling Waters. Lee ordered the retreat. Under the cover of darkness, the Confederates crossed to Virginia in a skillfully executed move, and by 11:00 A.M. the next morning, all units had reached the south bank except for 2 divisions at Falling Waters.
Meade, meanwhile, had ordered a reconnaissance in force for 7:00 A.M. on the 14th. The advancing Federals found only abandoned works at Williamsport, while at Falling Waters the 2 Confederate divisions lay encamped over a mile from the river. Maj. Gen. John Buford's and Brig. Gen. H. Judson Kilpatrick's cavalry divisions led the Union advance at Falling Waters. Buford, approaching from the north, charged first.
Before his assault could develop, however, Kilpatrick permitted 2 small squadrons to attack the surprised Confederates of Maj. Gen. Henry Heth's division. In the melee, the Confederates, using rifles, fence rails, and axes, unhorsed most of these Union cavalrymen. Alerted, the Confederates fought stubbornly when Kilpatrick attacked with strength and Buford struck from the east. Before the 2 Confederate divisions could cross, they lost 719 officers and men as prisoners and abandoned 2 cannon. Their most grevious loss was Brig. Gen. James J. Pettigrew, who was mortally wounded in the initial attack.
Because of the Union failure to destroy the Confederate army, Union generals exaggerated considerably the Confederates losses at Falling Waters. The Union cavalry had only surprised Heth's soldiers, inflicting minimal casualties.