The Battle of LaFourche Crossing
June 20-21, 1863 in LaFourche Parrish , Louisiana
Union Forces Commanded by:
Lt. Col. Albert Stickney
| | | | |
| --- | --- | --- | --- |
| Forces | Killed | Wounded | Captured |
| 838 | 8 | 40 | - |




Confederate Forces Commanded by:
Col. James P. Major
| | | | |
| --- | --- | --- | --- |
| Forces | Killed | Wounded | Captured |
| - | 53 | 150 | - |



**Missing and Captured
Conclusion: Union Victory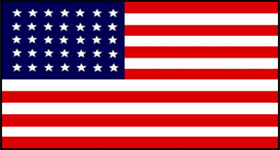 BATTLE SUMMARY
By June 1863, the only remaining Confederate strongholds on the Mississippi River were at Vicksburg and Port Hudson.  Port  Hudson, approximately 20 miles north of Baton Rouge, had been occupied by Union forces under command of Maj. Gen Nathaniel Banks since May 22. The longest military siege on the North American continent had begun.  If Port Hudson fell to the Federals, total Union control of the River would be one step closer to reality.
In order to divert Union attention away from Port Hudson, Maj. Gen. Richard Taylor planned an offensive into the LaFourche district.  The district, which included the parishes southwest of New Orleans and south of the Mississippi River, had been occupied by Union forces since late October, 1862.  Many of the Union troops had been diverted to Port Hudson in May, when the siege of that Confederate strong-hold began.  If Taylor could reoccupy the LaFourche district, he could then threaten New Orleans and force Banks to divert his army at Port Hudson, in order to protect the Union occupied Crescent City.
Taylor's plans called for a 2-prong invasion of the LaFourche district.  His primary mission was to seize control of Brashear city, and the capture of the large military stores within the village.  With that accomplished, Taylor could then threaten New Orleans.
Maj. Gen. Richard Taylor sent an expedition under Col. James P. Major to break Union supply lines, disrupt Union activities and force an Union withdrawal from Brashear (Morgan) City and Port Hudson. Major set out from Washington, Louisiana, on Bayou Teche, heading south and east. While marching, his men conducted raids on Union forces, boats, and plantations and in the process captured animals and supplies and liberated slaves.
Brig. Gen. William H. Emory, commanding the defenses of New Orleans, assigned Lt. Col. Albert Stickney to command in Brashear City and to stem the Confederate raid if possible. Emory informed Stickney of Major's descent on LaFourche Crossing and ordered him to send troops. Feeling that no threat to Brashear City existed, Stickney, himself, led troops off to LaFourche Crossing, arriving on the morning of the 20th.
That afternoon, Stickney's scouts reported that the enemy was advancing rapidly. The Rebel forces began driving in Stickney's pickets around 5:00 P.M. Confederate cavalry then advanced but was driven back. After the Union troops fired a few rounds, the Confederates withdrew in the direction of Thibodeaux. In the late afternoon of the 21st, Confederate soldiers engaged the Union pickets, and fighting continued for more than an hour before the Rebels retired.
About 6:30 P.M., the Confederates reappeared in force, started an artillery duel, and charged the Union lines at 7:00 P.M. An hour later, the Confederates disengaged and retired toward Thibodeaux. The battle ended in a Union victory, but it served the Confederate purpose by keeping Union forces from reinforcing Brashear City. The Union held the field. Despite the defeat, Major's raiders continued on to Brashear City.