The Battle of Suffolk
April 11-May 4, 1863 in Suffolk, Virginia
Union Forces Commanded by:
Brig. Gen. John Peck
| | | | |
| --- | --- | --- | --- |
| Forces | Killed | Wounded | Captured |
| 25,000 | 41 | 223 | 2* |




Confederate Forces Commanded by:
Lt. Gen. James Longstreet
| | | | |
| --- | --- | --- | --- |
| Forces | Killed | Wounded | Captured |
| 20,000 | - | - | - |



**Missing and Captured
Conclusion: Inconclusive Victory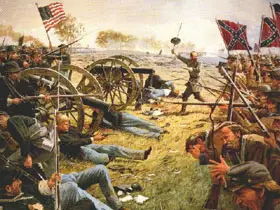 BATTLE SUMMARY
In cooperation with D.H. Hill's advance on Washington, North Carolina, Lt. Gen. James Longstreet with Hood's and Pickett's divisions besieged the Union garrison at Suffolk commanded by Brig. Gen. John Peck. The Union works were formidable and manned by 25,000 men, opposed to Longstreet's 20,000.
On April 13, the Confederate troops pushed their left flank to the Nansemond River and constructed a battery on Hill's Point, which closed off the garrison to Union shipping. 
On the 14th, Union gunboats attempted to run the batteries at the Norfleet House slightly upstream, but Mount Washington was crippled. The Federals, at the same time, constructed batteries to command the Confederate works at Norfleet House.
On the 15th, these batteries were unmasked and opened fire, driving the Confederates out of this important position.
On April 19, a Union infantry force landed on Hill's Point at the confluence of the forks of the Nansemond River. This amphibious force assaulted Fort Huger from the rear, quickly capturing its garrison, thus reopening the river to Union shipping.
On the 24th, Brig. Gen. Michael Corcoran's Union division mounted a reconnaissance-in-force from Fort Dix against Maj. Gen. George E. Pickett's extreme right flank. The Federals approached cautiously and were easily repulsed.
On the 29th, Gen. Robert E. Lee directed Longstreet to disengage from Suffolk and rejoin the Army of Northern Virginia at Fredericksburg. By May 4, the last of Longstreet's command had crossed the Blackwater River en route to Richmond.
Site Map
| Copyright © 2012
USwars.com
,