The Battle of Hill's Point
March 30-April 15, 1863 in Washington, North Carolina
Union Forces Commanded by:
Brig. Gen. John G. Foster
| | | | |
| --- | --- | --- | --- |
| Forces | Killed | Wounded | Captured |
| - | - | - | - |




Confederate Forces Commanded by:
Maj. Gen. Daniel H. Hill
| | | | |
| --- | --- | --- | --- |
| Forces | Killed | Wounded | Captured |
| - | - | - | - |



**Missing and Captured
Conclusion: Inconclusive Victory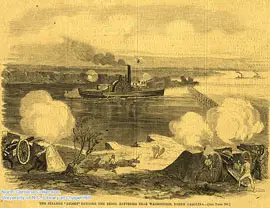 BATTLE SUMMARY
With his March 1863 offensive against New Berne having failed, Maj. Gen. Daniel H. Hill ranged eastward toward the North Carolina coast. He hoped to rerverse his ill luck by assailing a second objective recently given to him by Lt. Gen. James Longstreet: the Union garrison at Washington, D.C. Hill planned this operation carefully. By March 30th, he had erected batteries along the Pamlico River east of the town, to prevent a 3-gunboat flotilla anchored in the stream from reinforcing the garrison. he also mounted guns along the south bank of the pamlico at hill's Point, as well as farther up the north bank, at Swan's point. Yet another battery swept the south bank a short distance below Washington. Hulks and pilings sunk in the river further precluded amphibious relief of the garrison. To prevent the Federals at New Berne from interfering, Hill placed 2 brigades of infantry across the roads running south from Washington. Meanwhile, a brigade under Brig. Gen. Richard B. garnett held at bay 1,200 troops at Washington, led by Brig. Gen. John G. Foster, commander of the Union Department of North Carolina.
Enjoined to refrain from storming the village, Hill kept Garnett's brigade well in hand and contented himself with exchanging artillery fire with his enemy. Within 2 days, supplies and rations begaun to run low in Washington. When 2 efforts to bring reinforcements from New Berne failed, the Federals seemed doomed to surrender.
On April 2nd, however, the gunboats below the obstructed stretch of river suddenly turned their firepower on the Hill's Point battery, silencing its guns. The following morning, a Confederate emplacement just outside Washington opened on the ships. The latter in turn concentrated on the new obstacle and quickly overwhelmed it. The success showed Foster that the Confederate positions were not invincible.
When the next 12 days failed to bring relief from New Berne, Foster ran the batteries in a steamer protected by hay bales stacked on its deck. Though struck 40 times by the guns at and near Hill's Point, the ship passed the obstructions early on the 15th and reached New Berne. Aware that foster could now bring reinforcements against him, Hill called off the seige and again withdrew in dejection and disgust from a strategic objective.