The Battle of Bear River
January 29, 1863 in Franklin County, Idaho
Union Forces Commanded by:
Col. Patrick Edward Connor
| | | | |
| --- | --- | --- | --- |
| Forces | Killed | Wounded | Captured |
| 200 | 23 | 41 | - |




Indian Forces Commanded by Chief Bear Hunter
| | | | |
| --- | --- | --- | --- |
| Forces | Killed | Wounded | Captured |
| - | 384 k&w | - | - |



**Missing and Captured
Conclusion: Union Victory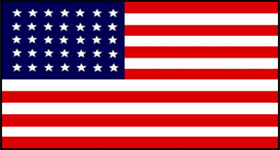 BATTLE SUMMARY
Shoshoni raids under Chief Bear Hunter during the winter of 1862-63 provoked Union retaliation. The Union force, under Col. Patrick E. Connor, set out from Fort Douglas, Utah, in deep snow towards Chief Bear Hunter's camp, located some 120 miles north near present-day Preston, Idaho. The camp occupied a strong position, lying in the bed of a wide ravine with steep banks up to 12-feet high. The camp included about 300 Shoshoni warriors defensively placed in the Battle Creek ravine west of Bear River. It had high embankments in which the Indians had cut access trails where they could stand and fire at anyone crossing the plain from the river. They also concealed their positions by using tree branches and brush.
On January 29, shortly after dawn, Connor's troops appeared across the river and began crossing. They were having trouble crossing the deep, fast flowing river. Conner had his cavalry carry some of the infantrymen across on the horses. Some of the men were deployed in a holding line on the plain, facing the Indians' embankment. The rest were ordered to work their way around to the rear of the camp. Before all of the men had crossed and Connor had arrived, some troops made an unsuccessful frontal attack which the Indians easily repulsed inflicting numerous casualties.
When Connor took over, he sent troops to where the ravine debouched through the bluffs. Some of these men covered the mouth of the ravine to prevent any escape while others moved down the rims, firing on the Indians below. The Federals slowly overran the camp. Some of the Indians attempted to escape by swimming the icy river where other Union troops shot them.
The battle stopped by mid-morning after 4 hours of fighting. The troopers had killed most of the warriors plus a number of women, children and old men—and captured many of the women and children. Bear Hunter was killed by a red-hot bayonet that was thrust into his ear and through his head.
The Bear River massacre was one of the largest, most brutal, and least known massacres of the Indians in the Civil War. Conner was promoted to brigadier general for his victory.