The Battle of Fort Hindman
January 9-11, 1863 in Arkansas Post, Arkansas
Union Forces Commanded by:
Rear Adm. David D. Porter and Maj. General John A. McClernand
| | | | |
| --- | --- | --- | --- |
| Forces | Killed | Wounded | Captured |
| 32,000 | 129 | 831 | 11* |




Confederate Forces Commanded by:
Brig. General Thomas J. Churchill
| | | | |
| --- | --- | --- | --- |
| Forces | Killed | Wounded | Captured |
| 33,000 | 100 | 400 | 5,000* est. |



**Missing and Captured
Conclusion: Union Victory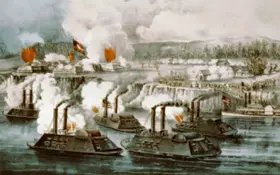 BATTLE SUMMARY
From Fort Hindman, at Arkansas Post, was one of the strongest bastions the Confederates had ever built. It was sitting high on a hill overlooking a bend in the Arkansas River, 50 miles above its mouth and 117 miles below Little Rock. Confederates had been disrupting Union shipping on the Mississippi River. It was particularly useful to the Confederates in obstructing the navigation of the Mississippi River, but Union officers were divided over the wisdom of capturing it. Maj. Gen. Ulysses S. Grant, for one, looked on its capture as a "
wild-goose chase
." Maj. Gen. John A. McClernand, commanding the Army of the Mississippi, thought otherwise, and he and Rear Adm. David D. Porter, heading naval forces in the area, planned an expedition against the fort.
McClernand, therefore, undertook a combined force movement on Arkansas Post to capture it.

On March 9
, an army of 32,000 men set sail up the river in transports, accompanied by 3 ironclads and 6 gunboats, arriving within a short distance of Arkansas Post. They landing the next day. The fort was defended by 3 brigades, 1 commanded by Col. John W. Dunnington, in charge of the fort, and the others, spread out in mile-long trenches on the off-river side, by Brig. Gen. Thomas J. Churchhill. Maj. Gen. William T. Sherman's corps overran Confederate trenches, and the Confederates retreated to the protection of the fort and adjacent rifle-pits.

On March 10
, Porter moved his fleet towards Fort Hindman and bombarded it for about 2 hours, withdrawing at dusk. Union artillery fired on the fort from artillery positions across the river on the 11th, and the infantry moved into position for an attack. Union ironclads commenced shelling the fort and within 3 hours all but 1 of the Confederates' cannon had been silenced. Porter's fleet passed the fort to cutoff any retreat. Meanwhile, the Federals on land were having success, with each attack they made on the Confederate trenches repulsed. Then, about 4:30 P.M., the end came quickly, following a fierce bombardment by Porter's fleet.
As a result of this envelopment, and the attack by McClernand's troops, white flags began appearing along the left on the Confederate line, and the surrender was soon executed. The Confederate command surrendered in the afternoon. Although Union losses were high and the victory did not contribute to the capture of Vicksburg, it did eliminate 1 more impediment to Union shipping on the Mississippi. The Federals captured large stores of guns , commisary, and quartermaster supplies. The importance of the victory was great: coming at a time when the Union arms had been successful on several battlefields, the success caused Union sympathizers throughout the nation to rejoice.