The Battle of Chickasaw Bayou
December 26-29, 1862 in Vicksburg, Mississippi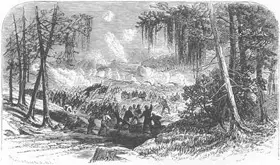 | | |
| --- | --- |
| Strength | Killed, Wounded & Missing/Captured |
| ~+mn~ 32,000 | 1,176 |
| | |
| --- | --- |
| Strength | Killed, Wounded & Missing/Captured |
| ~+mn~ 15,000 | 187 |
Conclusion: Confederate Victory
Books on The Battle of Chickasaw Bayou
& the Civil War Campaigns
are available from Amazon.com
In December, when Maj. Gen. Ulysses S. Grant's advance south down the line of the Mississippi Central Railroad stalled, he decided to use naval power to outflank the Confederates around Vicksburg. Maj. Gen. William T. Sherman was to return from Oxford to Memphis, Tennessee with 1 division, assume command of troops being assembled there by Maj. Gen. John A. McClernand, and descend the Mississippi to the mouth of the Yazoo River, north of Vicksburg.
Supported by Rear Adm. David D. Porter's gunboats, he was to ascend the Yazoo a short distance, disembark his 32,000-man army, and seize the highground northeast of Vicksburg. To keep Lt. Gen. John C. Pemberton from reinforcing Vicksburg defenders with his 6,000 men from Grenada. Grant would press him along entrenchments behind the Yalobusha River, norhteast of the city. Cavalry raids led by Maj. Gen. Earl Van Dorn and Brig. Gen. Nathan B. Forrest cut his supply lines at Holly Springs and in West Tennessee, and Grant was compelled to yield and pull back.
Sherman's transports entered the Yazoo on the 26th, and before nightfall 3 divisions had landed at Johnson's Plantation. Confederate reinforcements had already arrived. Pemberton's 2 brigades from north Mississippi and a 3rd sent from middle Tennessee bolstered the 6,000 defenders already stationed on bluffs overlooking the scene.
News that the invasion convoy was approaching the Yazoo had sent Confederates into the rifle pits covering the approaches to Walnut Hills, also known as Chickasaw Bluffs. As Sherman's men disembarked facing these distance bluffs, Porter's gunboats moved up the river shelling the Confederate batteries on Haynes' Bluff on the Union left. Union troops deployed on rough ground with an enormous swamp in the front and the bluffs beyond.
On the 27th, after a heavy artillery bombardment of the Confederates, the Federals pressed forward through swampland until they reached water barriers fronting the Confederate defenses. Officers complained they found only 4 approaches to the bluffs not barred by water, and those were swept by Confederate artillery.
Brig. Gen. Frederick Steele's division sought to reach the bluffs on the 28th, crossing Blake's Levee, but was checked by Confederate abatis and cannon. Sherman decided to assault the center. At noon on the 29th, 2 brigades charged across Chickasaw Bayou causeway to the foot of the bluffs and were savaged by Confederate fire from high ground. The twisted swampland forbade Federals from bringing up artillery support. Confederate positions gave them a clear field of fire. Thrusts to keep the Confederates pinned down were unsuccessful, and Sherman recalled his troops.
Advised that more reinforcements had joined Pemberton from Gen. Braxton Bragg's Army of Tennessee. Sherman withdrew his men from the Yazoo on January 2nd, 1863. At that time, Confederate defenders numbered 14,000.