The Battle of White Hall
December 16, 1862 in White Hall, North Carolina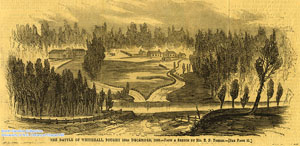 Union Forces Commanded by
Brig. Gen. John G. Foster
| | | | |
| --- | --- | --- | --- |
| Strength | Killed | Wounded | Missing/Captured |
| ~+mn~ ? | ? | ? | ? |
Confederate Forces Commanded by
Brig. Gen. Beverly Robertson
| | | | |
| --- | --- | --- | --- |
| Strength | Killed | Wounded | Missing/Captured |
| ~+mn~ ? | ? | ? | ? |
Conclusion: Inconclusive / Draw
Goldsboro Expedition
Books on The Battle of White Hall
& the Goldsboro Expedition
are available from Amazon.com
On December 16, Foster's Union troops reached White Hall where Beverly Robertson's brigade was holding the north bank of the Neuse River. The Federals demonstrated against the Confederates for much of the day, attempting to fix them in position, while the main Union column continued toward the railroad. The town was virtually destroyed.
The Union Army was entrenched on a hill overlooking the river while the confederate held the right bank of the river at what is now the Piney Grove community. Both sides claimed victory after the battle, but it was the bombardment by Union cannons that destroyed the town.
Civil War Harper's Weekly, January 10, 1863
BATTLE OF WHITEHALL.
This was fought on 16th. As our troops approached the town an open space revealed our approach to the enemy, the latter being concealed in a thick woods on the opposite side of the river. Heavy skirmishing immediately ensued between the Ninth New Jersey and three regiments of rebels. Major Garrard, who was in advance of the column, with three pieces of artillery and a squadron of cavalry, passed over a high hill behind the skirmishers, in full sight of the enemy, until he got to the left of those in action, and then opened with his artillery. In a few minutes other artillery came up, when the Major ceased firing. Although his cavalry force was in a position of great exposure, under a heavy fire for quite a while, still the loss was quite trifling. The battle lasted for over three hours. The enemy operated against us with a force of about five or six thousand infantry and three batteries of artillery. The Ninth New Jersey Volunteers, General Wessel's brigade, and a couple of Massachusetts regiments, were engaged in the fight. A few other regiments were brought under fire.
Site Map
| Copyright © 2012
USwars.com
,