The Battle of Coffeeville
December 5, 1862 in Coffeeville, Mississippi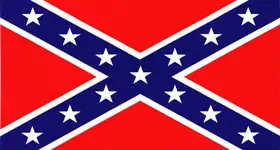 | | | | |
| --- | --- | --- | --- |
| Strength | Killed | Wounded | Missing/Captured |
| ~+mn~ ? | 10 | 54 | ? |
| | | | |
| --- | --- | --- | --- |
| Strength | Killed | Wounded | Missing/Captured |
| ~+mn~ ? | 7 | 43 | ? |
Conclusion: Confederate Victory
Grant's 1st Vicksburg Campaign
Books on The Battle of Coffeeville
& the Grant's 1st Vicksburg Campaign
are available from Amazon.com
Gen. Ulysses S. Grant never gave up Mississippi and capturing Jackson, the captial, and Vicksburg. At the end of November, he headed south from the Memphis area. This generated a frenzy of activity for the Confederate army scattered across North Mississippi.
Grant's first march to Vicksburg followed the Mississippi Central Railroad out of southwest Tennessee. On December 1st, resisting Mississippi Confederates, close by the railroad north of Abbeville, pulled out of south-bank entrenchments along the Tallahatchie River and moved south. Union XIII Corps' cavalry commander, Col. T. Lyle Dickey, ordered to pursue, gathered his troops near Abbeville on the 2nd and skirmished with Maj. Gen. Earl Van Dorn's rear guard through town, down the railroad, and through Oxford.
On the 3rd, Dickey divided his force in 4 different parts: 1 regiment secured Oxford; Col. John K. Mizner's men, dispatched west, roved the right flank looking for the Confederates; Cols. Albert L. Lee and Edward Hatch headed up 2 columns, Hatch's traveling the Coffeeville Road south and Lee's moving down a parallel route on the east. Grant sent Dickey encouragement to press the Confederates as far as possible. Hatch hit stout resistance on the Yocknapatalfa River. Following behind his columns, Dickey sent word forward ordering Lee to ride to Hatch's support, cross the river, and then press on for Coffeeville.
Dickey caught up with his force the next day below the Yocknapatatalfa at Water Valley and found that rough terrain and resistance had kept Lee and Hatch from receiving orders.They met at Water Valley by accident after Hatch was driven from the hamlet by superior numbers. At Dickey's direction, Mizner also arrived shortly.
Union units, some scattered below the Confederates at Grenada, others to the west, composed the nearest support. Dickey, unsure of Confederate numbers behind or in front, decided to press pursuit one more day, perhaps making contact with other Union forces.
Dickey's men crossed the Otuckalofa River south of Water Valley the morning of the 5th, pressing down the Coffeeville Road as 1 column. They hit Van Dorn's skirmishers at 2:00 P.M., fanned out forming a broad front, and moved within a mile of Coffeeville. Resistance briefly cooled. Having hauled 2 cannon with them, they probed the Confederate's front with artillery fire. From a screened front, Confederates answered with 6 cannon and sent an infantry battle line forward.
Maj. Gen. Mansfield Lovell and Brig. Gen. Lloyd Tilghman, Van Dorn's subordinates, commanded the defense. Federals, reeling under superior fire, organized a fighting retreat and withdrew, alternating defensive lines. Tilghmean admitted that "the tactics of the enemy did them great credit', but volunteered pursuit. With Col. William H. Jackson's 700 cavalry and about 600 infantry, he pressed Dickey's force until nightfall, when the Federals secured a superior position opposite a large open field. The engagement broke off.
Dickey's cavalry returned to Grant's line unmolested. The pursuit from the Tallahatchie netted them 750 prisoners, 200 horses, 4 wagons, and $7,000 in Confederate money. Van Dorn summed up the engagement in a 2-sentence report, saying Federals had learned a lesson about pursuit. The Battle of Coffeeville brought Grant's Mississippi invasion via Tennessee to a halt. He pulled his army back to Oxford.