The Battle of Island Mound
October 29, 1862 in Bates County, Missouri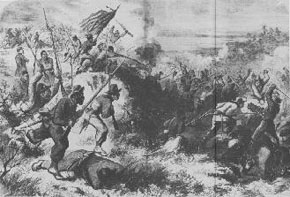 Union Forces Commanded by
?
| | | | |
| --- | --- | --- | --- |
| Strength | Killed | Wounded | Missing/Captured |
| 150-200 | 8 | 10 | ? |
Confederate Forces Commanded by
?
| | | | |
| --- | --- | --- | --- |
| Strength | Killed | Wounded | Missing/Captured |
| ~+mn~ ? | 30 | ? | ? |
Conclusion: Union Victory
Books on The Battle of Island Mound
are available from Amazon.com
Kansas Senator James H. Lane was a colorful figure. Known for his passionate oratory, often accompanied by choreographical theatrics, he could keep any audience enthralled and amused for as long as he chose to speak.
Lane's mental stability, however, was questionable. Early in the Civil War, President Abraham Lincoln, disturbed by Lane's bizarre escapades, sought to avoid giving Lane the combat command he desired by appointing him the military recruitment commissioner for Kansas.
In June, James H. Lane, a Kansas senator, was appointed the military recruitment commissioner for Kansas. He recruited and Col. James Williams began training troops from the growing number of black fugitives in Kansas who had voluntarily fled or had been forcefully liberated from Missouri and Arkansas. Some of Williams' troops willingly enlisted; others were coerced. They were made into the 1st Kansas Colored Volunteer Infantry. By mid-July, when Congress at last made it legal to enroll "persons of African descent" into the Union Army, the 1st Kansas Colored were officially admitted to the army.
A detachment of more than 225 men from the 1st Kansas, under the leadership of white officers, including Williams and several others, travelled 100 miles to the southeast in October. Their orders were "to proceed to a point on the Osage, Bates County, Missouri, and there break up a gang of bushwhackers."
On October 27, they reached Dickies Ford. Their destination was "the large double log house of a notorious rebel named Toothman three miles from this ford." Mr. Toothman was, at that time, being held at the guard house at Fort Lincoln. The Toothman Farm was located about 5 miles southwest of Butler, Missouri on a higher elevated section of land. As they approached the house, they saw several mounted Confederate irregulars. The command hurried to the house and utilized a heavy rail fence around the perimeter to build a barricade where they camped for the night. A scouting party confirmed a report that there were several hundred Confederates. The 1st Kansas was vastly outnumbered. That night, messengers were sent to both Fort Lincoln and Fort Scott asking for reinforcements.
On October 28, early in the morning, shots were exchanged and skirmishing continued throughout the day. In the afternoon, a detachment of 60 men was sent out with orders to "skirmish with the enemy, holding them in play while a foraging party proceeded in search of salt and cornmeal."
The 1st Kansans were ordered to return back to camp. They returned rather quickly as the Confederates set fire to the prairie grass behind them. The wind was blowing briskly in the direction of the retreating Union soldiers and toward the camp. The soldiers were forced to build a counter fire around the camp to avoid being completely overwhelmed by the smoke. Upon their return to camp, an 8-man scouting party was sent out with orders to stay "within sight of camp." When the first party didn't return, a small search party was sent to find them. Both parties had united and were returning across the prairie toward the mounds, in sight of camp when 130 mounted Confederates appeared and began advancing toward them. Two detachments of reinforcements were sent from the camp but by the time they arrived at the scene, there had already been several casualties, and the battle had degenerated to hand-to-hand combat.
After 15-20 minutes of heavy fighting, the battle ended. Both sides removed their dead and wounded from the field and retreated, the 1st Kansans to Toothman's farm and the Confederates to "a point southeast, known as Red Dirk and Pleasant Gap."
At the Battle of Island Mound, it was the first time during the Civil War that black troops had been in combat. Although the engagement was not of great importance militarily, its historical and psychological importance should not be underestimated. The wide reporting and praise of the 1st Kansans helped to encourage the enlistment of black troops and their eventual use as Union regulars.
The psychological impact on Confederate forces of armed ex-slaves in battle against their former masters can never, of course, be measured. The Confederate government's official response was that such "crimes and outrages" required retaliation. Captured white officers who had commanded black troops were to be "executed as felons" and no black prisoners were to be taken.
Site Map
| Copyright © 2012
USwars.com
,