The Battle of Crampton's Gap
September 14, 1862 in Crampton's Gap, Maryland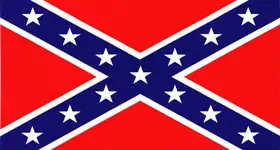 Union Forces Commanded by
Maj. Gen. William B. Franklin
| | | | |
| --- | --- | --- | --- |
| Strength | Killed | Wounded | Missing/Captured |
| ~+mn~ ? | ? | ? | ? |
Confederate Forces Commanded by
Maj. Gen. Lafayette McLaws
| | | | |
| --- | --- | --- | --- |
| Strength | Killed | Wounded | Missing/Captured |
| ~+mn~ ? | ? | ? | ? |
Conclusion: Confederate Victory
On September 14, battles were fought at 3 crucial passes through South Mountain. The southernmost defile, Crampton's Gap, was a few miles northeast of Harper's Ferry, where a Union garrison lay beseiged by 3 Confederate forces. To relieve the surrounded Federals, Maj. Gen. George B. McLellan committed his 12,000-man VI Corps under Maj. Gen. William B. Franklin.
The Union corps arrived at the foot of the mountain about noon. Two Confederate cavalry regiments and 3 infantry regiments, all Virginians, defended the pass. The defending force, commanded by Col. William A. Parham, was probably only 1/10 the number opposing it. Behind the Confederates lay Pleasant Valley and direct access to Maryland Heights, where Maj. Gen. Lafayette McLaws' command was attacking to seal the fate of the Union garrison at the ferry. A successful Union assault up Pleasant Valley could result in the destruction of McLaes force.
Maj. Gen. Henry W. Slocum's division initiated Franklin's attack on the mountain gap. Scaling the wooded mountainside, the Federals charged the Confederate line. Parham's Confederates clung to their position, repulsing Slocum's thrusts for several hours. Franklin finally sent in Maj. Gen. William F. Smith's division on Slocum's left. Parham's ranks began cracking under the mounting Union members.
At this crucial moment, Brig. Gen. Howell Cobb, with 4 Confederate regiments, arrived from the south. Cobb's soldiers rapidly filed into line but could not stern the relentless Union assault. The Confederate center collapsed under the onslaught. hammered for hours, Parham's Confederates broke wildly, running down the western side of the mountain. Cobb and Parham vainly tried to rally the panicked men. Cobb delayed the pursuing Federals with a battery and 2 regiments of Brig. Gen. Paul J. Semmes' brigade, which had arrived as reinforcements.
McLaws'', when he learned of the disaster in his rear, immediately withdrew 2 brigades and 2 cannon from Maryland Heights. These reinforcements formed a line of battle about 1 1/2 miles below Crampton's Gap, where the remnants of the Confederates finally rallied.
Franklin, under orders to relieve the Union garrison, pushed into Pleasant Valley, halting short of this new Confederate line. Overestimating McLaws' strength, the VI Corps commander lost his nerve, and nightfall soon ended the action. Franklin's hesitation doomed the garrison, which surrendered the next day. The battle in the gap had cost him only 533 men, while inflicting 1,000 casualties. But Franklin had missed an opportunity to alter the course of the Antietam Campaign.
Availible From Amazon.com:
Sealed with Their Lives: Battle of Crampton's Gap, Burkittsville, MD, Sept. 14, 1862
Site Map
| Copyright © 2012
USwars.com
,