The Battle of Fort Ridgely
August 20-22, 1862 in Fort Ridgely, Minnesota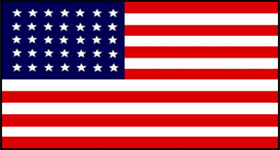 Union Forces Commanded by
1st Lt. Timothy J. Sheehan
| | | | |
| --- | --- | --- | --- |
| Strength | Killed | Wounded | Missing/Captured |
| ~+mn~ ? | 13 | 3 | ? |
Indian Forces Commanded by
Chief Little Crow
| | | | |
| --- | --- | --- | --- |
| Strength | Killed | Wounded | Missing/Captured |
| 400 - 800 | ? | ? | ? |
Conclusion: Union Victory
Operations to Opress Sioux Uprising
   During the month of August in 1862, bands of Santee Sioux attacked settlers and fought the garrison at Fort Ridgely.
The conflict started out when Major Thomas J. Galbraith and Andrew Myrick, agents responsible for disbursing food rations to the Santee Indians and otherwise maintaining good relationships with them, refused to give the rations on schedule and insulted the Santee tribal representatives. Out of retaliation, the Mdewakanton band of Santee killed a family of settlers and Myrick. Led by Chief Little Crow, the Mdewakanton razed settlements and killed hundreds of white settlers. Surviving settlers fled to Fort Ridgely for protection.
Fort Ridgely was the only military post between the Sioux and Fort Snelling at St. Paul, Minnesota. The number of regular army troops in Minnesota had been greatly diminished by the troops sent to fight in the Civil War. The settlers, many of them new immigrants from Germany, were not well armed. Captain John Marsh, commander of Fort Ridgely, led a group of 46 soldiers to lead settlers to safety. The Mdewakantons ambushed them and 32 of the soldiers were killed, including Marsh. The remaining soldiers fled to the Fort, eleven miles away.
Lieutenant Thomas P. Gere led the remaining forces at the fort. Major Galbraith's company of volunteers, the Renville Rangers, reinforced Gere. Ft. Ridgely lacked a stockade; the buildings were detached and some were clapboard construction, so most of the defense depended on the skill of Sergeant John Jones, a regular army ordnance expert, supplemented by J. C. Whipple, an artillerist of the Mexican War, and other soldiers and civilian volunteers from among the 250 refugees who had fled to the fort. Most of the refugees were women and children, and many were wounded before they arrived. The fort had six pieces of artillery, including six-pounders, twelve-pounders, and twenty-four pounders, which Jones placed at three critical locations. The first day of battle, August 21, the Santee were held off mostly by grapeshot. A strong thunderstorm rolled in holding off the Sioux a little more. The next day, the Mdewakantons were reinforced by the Sisseton and Wahpeton bands, swelling their force to more than 800. The Santee attempted to set the Fort ablaze with fire arrows, but they were unsuccessful despite their four to one numerical superiority and the poor defensive layout of the fort, and were driven off by superior firepower. Had they captured the fort, its artillery might have given them a great advantage in subsequent fighting.
After the Santee were defeated, many were captured. Thirty three were hanged in a mass execution.
Site Map
| Copyright © 2012
USwars.com
,