The Battle of Locust Grove
July 3, 1862 in Locust Grove, Oklahoma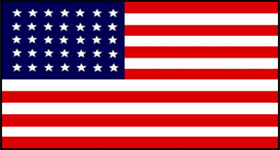 | | | | |
| --- | --- | --- | --- |
| Strength | Killed | Wounded | Missing/Captured |
| ~+mn~ 300 | ? | ? | ? |
| | | | |
| --- | --- | --- | --- |
| Strength | Killed | Wounded | Missing/Captured |
| ~+mn~ 300 | ? | ? | 110 |
Conclusion: Union Victory
In late June, 1862, a Union force of about 6,000 soldiers under the command of Col. William Weer departed from Baxter Springs, Kansas, and passed down the Neosho River where Col. Stand Watie, Col. John Drew, and other Confederate organizations had been raiding. Weer, with a detachment of about 300 men, completely surprised the camp of Col. J.J. Clarkson near Locust Grove about sunrise on July 3rd. Clarkson's force of about 300 men was so completely demoralized that they were unable to form a battle line, though gunfire continued in the woods all day. Clarkson surrendered the men that remained with him after the attack in the morning.
Those that escaped went to Tahlequah where their story of Clarkson's defeat gave a powerful impulse to Union recruiting of Cherokees. The Union force captured 60 wagons of ammunition and salt, 64 mule teams, and large quantities of provisions. There were also 110 Confederate soldiers who surrendered.
The day following the Locust Grove skirmish was July 4th, and the Union forces celebrated the occasion by dividing up the captured clothing among the ragged refugees and soldiers, and the powder and equipment among the heads of military units.