The Battle of Fort Butler
June 28, 1862 in Fort Butler, Louisiana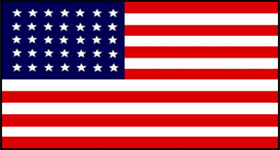 Union Forces Commanded by
Brig. Gen. Nathaniel P. Banks
| | | | |
| --- | --- | --- | --- |
| Strength | Killed | Wounded | Missing/Captured |
| ~+mn~ ? | ? | ? | ? |
Confederate Forces Commanded by
Maj. Gen. Thomas Green
| | | | |
| --- | --- | --- | --- |
| Strength | Killed | Wounded | Missing/Captured |
| ~+mn~ ? | ? | ? | ? |
Conclusion: Union Victory
Fort Butler was a Union stronghold at the town of Donaldsonville near the junction of Bayou Lafourche and the Mississippi River. Maj. Gen. Thomas Green's cavalry had headed towards Fort Butler. He had already captured a Union outpost earlier. He was joined by Maj. Gen. James P. Major's Confederates to attack Fort Butler.
On June 28, in the early morning hours, the Union garrison at Fort Butler battled the Confederate force. The garrison was helped by several Union gunboats on the Mississippi River. There was some close hand-to-hand fighting in the parapets, with some men throwing bricks at each other.
By the time the sunrise came, the fight was over, with the Confederates having to pull back and give up the attack.
Site Map
| Copyright © 2012
USwars.com
,