The Battle of Garnett's Farm
June 27-28, 1862 in Henrico County, Virginia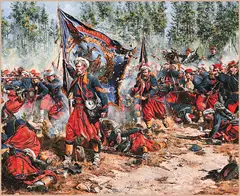 Union Forces Commanded by
Maj. Gen. George B. McClellan
| | | | |
| --- | --- | --- | --- |
| Strength | Killed | Wounded | Missing/Captured |
| ~+mn~ ? | 37 | 227 | 104 |
Confederate Forces Commanded by
Maj. Gen. John B. Magruder
| | | | |
| --- | --- | --- | --- |
| Strength | Killed | Wounded | Missing/Captured |
| 11,000 | ? | ? | ? |
Conclusion: Inconclusive / Draw
The Union defeat at Gaines' mill on June 27th resulted in Maj. Gen. George B. McClellan's abandonment of his supply base at White House on the Pamunkey River. That night, he ordered a withdrawal of his army down the Virginia peninsula to a new base on the James River.
The retreat began about noon the next day, 2 corps marching while 3 remained posted on the army's western flank until the nightfall. With a herd of cattle and an immense wagon train, the Federals angled southeast across the marshy bottomlands of the peninsula. At White House, enourmous amounts of supplies, railroad cars, locomotives, and barges lay smoldering in a blistered heap.
Gen. Robert E. Lee reacted cautiously to the situation on the 28th. Uncertain of McClellan's movements, Lee dispatched his cavalry and probed with infantry to gather intelligence. By nightfall, he had devised plans to trap the fleeing Union army.
Operations shifted from the north of Chickahominy River to the south, with Lee ordering a complicated advance on 4 roads. As the Federals slogged through White Oak Swamp, Lee intended to converge his 4 segments and cripple or destroy the Union army.
Lee assigned Maj. Gen. John B. Magruder the important task of slowing the retreat and inflicting as much damage as possible. For the past 3 days, while Lee assumed the offensive north of the ChickahominyRiver, Magruder had demonstrated against the bulk of the Union army, a trying ordeal that the general had handled skillfully.
early on the 29th, Magruder led his 11,000 men eastward on the Williamsburg Road, paralleling the York River Railroad. The Confederates advance casiously but at 9:00 A.M. made contact with the Federals. Instead of a retreating army, Magruder encountered 2 Union infantry corps, supported by 40 cannon a mile east of Fair Oaks at Allen's Farm.
Magruder probed the woods with a solitary regiment, rifle and artillery fire erupting among the trees. The Confederates hesitated, and Magruder wisely decided to deploy his command, waiting for the arrival of maj. Gen. Thomas J. 'Stonewall" Jackson's troops from the north and Maj. Gen. Benjamin Huger's from the south. As the Confederates aligned in the woodland, Union gunners sent shells into the trees. The only general officer killed in the engagement was Richard Griffith, a brigadier general.
Maj. Gen. Edwin V. Sumner, the Union corps commander directly in front of Magruder, withdrew at 11:00 to Savage's Station, where a new Union line was being erected. The engagement at Allen's Farm ended with little resolution. Magruder followed, and 5 hours later, a fiercer battle ensued at Savage's Station.
Site Map
| Copyright © 2012
USwars.com
,