The Battle of Harrisonburg
June 6, 1862 in Harrisonburg, Virginia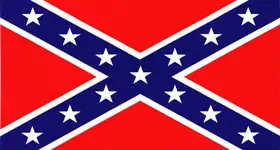 | | | | |
| --- | --- | --- | --- |
| Strength | Killed | Wounded | Missing/Captured |
| ~+mn~ ? | ? | ? | ? |
| | | | |
| --- | --- | --- | --- |
| Strength | Killed | Wounded | Missing/Captured |
| ~+mn~ ? | ? | ? | ? |
Conclusion: Confederate Victory
On the evening of June 6th on the wooded Chestnut Ridge outside Harrisonburg, the Pennsylvania "Bucktails", commanded by Col. Thomas Kane were defeated by the 58th Virginia under the command of Col. Samuel H. Lechter and Gen. Turner Ashby and the 1st Maryland Infantry commanded by Col. Bradley T. Johnson. 
This hard fought battle started as a rear guard action that escalated into having the Pennsylvanians on the verge of victory unitl the late heroics of Johnson and his Marylanders forced the Bucktails to retreat in shame. This action enabled many Marylanders to capture the Pennsylvanian's bucktails and display them as badges of honor.
The Battle of Harrisonburg was another victory in "Stonewall" Jackson's famous "Valley Campaign" which enabled Jackson to secure his lines and to take action at Cross Keys and Port Republic a few days later. Harrisonburg is also known as the battle in which Jackson's Cavalry Officer, Ashby, dies in one of his infamous charges.