The Battle of Plum Run Bend
May 10, 1862 near Memphis, Tennessee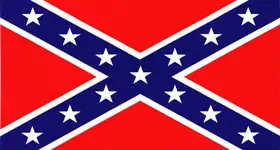 Union Forces Commanded by
Maj. Gen. John Pope and
Flag Officer Andrew H. Foote
| | | | |
| --- | --- | --- | --- |
| Strength | Killed | Wounded | Missing/Captured |
| ~+mn~ ? | ? | ? | ? |
Confederate Forces Commanded by
Capt. James E. Montgomery
| | | | |
| --- | --- | --- | --- |
| Strength | Killed | Wounded | Missing/Captured |
| ~+mn~ ? | 2 | 1 | ? |
Conclusion: Confederate Union Victory
In spring 1862, Maj. Gen. John Pope and Flag Officer Andrew H. Foote had taken Island #10 on the upper Mississippi River. Now, only Confederate Fort Pillow, 40 miles north of Memphis, tennessee, and a Confederate gunboat fleet provided protection for the river. Pope and Foote had planned to take the fort, destroy the fleet, and capture Memphus, but before their plans could be put into effect, most of Pope's men were ordered to join Maj. Gen. Henry W. Halleck's armyat Pittsburg Landing. Foote could only threaten Fort Pillow. On may 9th, Foote went on sick leave, his 7 ironclads, 16 mortar boats, 1 wooden gunboat, and 2 army regiments coming under the command of capt. Charles H. Davis.
In response to the threat, Col. M. Jeff Thompson's River Defense Fleet, 8 converted steamers, commanded by Capt. James E. Montgomery, planned to attack the Union fleet. The Confederate vessels, lacking heavy armament and armor, would rely on wood and cotton-bale armor, their rams, and their relatively high speed. Each carried only 1 or 2 guns.
On the 10th, the Confederate ships moved upriver against Union mortar boat No. 16, which was guarded by the Union ironclad Cincinnati. When the ironclad was caught by surprise, the rest of the Union fleet began to react. The Confederate ram General Bragg, after taking fire from the mortar boat, rammed the Cincinnati, then recoiled in the face of a Union broadside. The C.S.S. Sterling Price rammed the Cincinnati a second time while the C.S.S. Sumter, conning at full speed, struck it again. The Cincinnati rolled and sank in 11 feet of water.
Meanwhile, the C.S.S. Earl Van Dorn moved past the Bragg and against the oncoming ironclad Mound City. The ship rammed the Union gunboat and sank it on a sandbar. The remaining Confederate boats did not come within ramming distance but used their guns and sharpshooters. After 30 minutes, the Confederate fleet withdrew.
None of the Confederate boats were seriously damaged, whereas 2 Union gunboats were sunk, both later put back into commision. On June 5th, Fort Pillow was discovered abandoned. The next day, in the Battle of Memphis, the Confederate fleet was effectively destroyed. The engagement at Plum Run Bend delayed but did not stop the upper Mississippi.
Site Map
| Copyright © 2012
USwars.com
,