The Battle of Albuquerque
April 8-9, 1862 in Albuquerque, New Mexico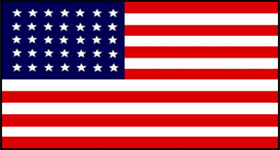 | | | | |
| --- | --- | --- | --- |
| Strength | Killed | Wounded | Missing/Captured |
| ~+mn~ ? | ? | ? | ? |
| | | | |
| --- | --- | --- | --- |
| Strength | Killed | Wounded | Missing/Captured |
| ~+mn~ ? | ? | ? | ? |
Conclusion: Union Victory
After the Battle of Glorieta Pass, the Texas army retreated to Santa Fe and then to Albuquerque, where they commandeered Franz Huning's flour mill at what is now Laguna and Central. The mill was named, ironically, La Glorieta. On April 8, Canby, then at the small farming settlement of Barelas, south of what is now downtown, ordered four Union cannons to fire on Albuquerque. The colonel had decided to make a noisy show of strength by his small army. The cannons of the rebel army, located at the mill near present-day Old Town, returned fire.
The "Battle of Albuquerque" lasted several hours. It was only an artillery shelling, with no casualties. As the cannon balls flew back and forth, a worried group of citizens approached Canby and told him the Confederate Army would not allow the women and children who had remained in their homes to leave and find a safe refuge. Canby ordered his men to stop firing. The Battle of Albuquerque had ended.
As the sunset glowed red, orange and pink in the west, both citizens and Confederate soldiers watched the campfires of a thousand Union Army soldiers burn brightly as day turned into night. Worried residents wondered if the ceasefire would end the following morning and the battle would resume. They heard the Union Army musicians playing their instruments well into the night and saw the campfires slowly die out.
Unknown to citizens or Confederates, Canby thought a larger force of Sibley's forces would return to Albuquerque and had ordered his soldiers to quietly move south during the night, leaving the musicians behind for part of the night to cover up the noise of their departure. Canby moved into the Sandias, where on April 1 the victorious Colorado volunteers joined him at the village of San Antonio. Canby now had a large force, which he soon sent towards Albuquerque.
Sibley had by then arrived in Albuquerque from Santa Fe. At a meeting of his officers, he explained their situation. They had food for 15 days and only 35 to 40 rounds of ammunition per man. To save his army he felt it was best to retreat down the valley and out of the territory. No one disagreed. Some of the wounded would have to be left behind.
Eight brass howitzer cannons would also be left behind, buried at a corral behind San Felipe Neri Church. Sibley wanted to be sure the cannons would not be used against the Confederacy in the future. They were later recovered, and two are preserved in The Albuquerque Museum.
On the morning of April 12, the rebel army began its retreat southwest of town, crossing to the opposite bank of the Rio Grande.