The Battle of Warrensburg
March 26-27, 1862 in Warrensburg, Missouri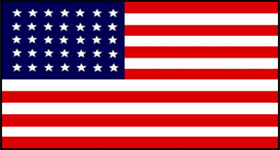 | | | | |
| --- | --- | --- | --- |
| Strength | Killed | Wounded | Missing/Captured |
| 61 | 2 | 1 | ? |
Strength
Killed
Wounded
Missing/Captured
~+mn~

200

~+mn~

9

~+mn~

17

?
Conclusion: Union Victory
On March 26, Col. William Quantrill and a band of over 200 Confederate raiders entered the town of Warrensburg that afternoon. Their objective was a Union outpost in the town. Warrensburg was commanded by Maj. Emory Foster and a detachment of 60 soldiers of the 7th Missouri Cavalry. Foster had fortified the brick county courthouse and had his men posted behind a thick board stockade surrounding the building. The Confederates made a failed charge against the Federals and was driven off at dusk.
On March 27, the Confederates made another carge that morning but failed to overtake the Union position. They quickly left town and raced back into Jackson County.