The Battle of Fort Macon
March 23-26, 1862 in Fort Macon, North Carolina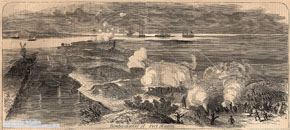 | | | | |
| --- | --- | --- | --- |
| Strength | Killed | Wounded | Missing/Captured |
| ~+mn~ ? | 1 | 11 | ? |
| | | | |
| --- | --- | --- | --- |
| Strength | Killed | Wounded | Missing/Captured |
| 500 est. | 7 | 18 | 450 |
Conclusion: Union Victory
   In mid-March, following his capture of Roanoke Island and New Berne, Maj. Gen. Ambrose E. Burnside was ready to accomplish the third objective of his North Carolina coastal campaign: the seizure of Fort macon, on the eastern tip of Bogue Banks Island, just below Beaufort.
According to one of Burnside's colonels, Fort Macon was "an old-style, strong, stone, casemated work, mounting 67 guns, garrisoned by above 500 men, commanded by Col. Moses J. White." Strong it might be, but it was vulnerable. Designed to protect Beaufort against a sea attack, it was easily isolated from the interior by a movement from the north; and isolation meant starvation for the garrison. Aware of the fact, Maj. Gen. John G. Parke, whom Burnside had selected to lead the movement against Fort Macon, sent a surrender demand to White on March 23rd. Showing more feistiness than prudence, White, whose troops had been reduced to about 400 effectives low on ammunition, politely but firmly refused. Accordingly, Parke made plans to blast him out.
On the 29th, the advance echelon of Parke's brigade landed on Bogue banks, west of the fort, covered by warships from the fleet of Capt. Louis M. Goldsborough. For the next 2 weeks, in parke's words, "every available hour of night and day was spent in transporting men, seige trains and supplies." With a beachhead firmly established, Union patrols moved gingerly toward the fort. Several days of small-unit clashes were followed on the 10th by a reconnaissance close to macon's guns, which convinced Parke that a seige rather than an attack was his proper course.
It took only a few days to complete an investment. By the 15th, enough heavy cannon had been emplaced around the fort to doom its garrison, now reduced to 300 able troops. But White stubbornly rejected further demands for surrender, including one tendered by Burnside in person.
At dawn on the 25th, Parke's batteries opened a furious fire against the fort, accompanied for a brief time by salvos from the navy. The bombardment was amazingly accurate and effective, the fort's return fire was sparse and poor. late in the afternoon, with his works badly damaged and 25 of his men casualties, White ran up a white flag of surrender. This action demonstrated the inadequacy of masonry forts against large-bore, rifled artillery. With his capulation, the most strategic portion of the North Carolina coast fell into union hands, enabling Burnside to plan a drive inland.