The Battle of New Berne
March 14, 1862 in Newberne, North Carolina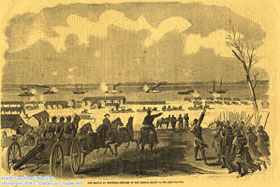 | | | | |
| --- | --- | --- | --- |
| Strength | Killed | Wounded | Missing/Captured |
| 12,000 est. | 99 | 466 | 1 |
| | | | |
| --- | --- | --- | --- |
| Strength | Killed | Wounded | Missing/Captured |
| 4,500 est. | 64 | 106 | 413 |
Conclusion: Union Victory
Burnside's North Carolina Expedition
On March 11, Brig. Gen. Ambrose E. Burnside's command embarked from Roanoke Island to rendezvous with Union gunboats at Hatteras Inlet for an expedition against New Berne. On the 13th, the fleet sailed up the Neuse River and disembarked infantry on the river's south bank to approach the New Berne defenses. Awaiting the Union force was Gen. Lawrence O'Bryan Branch, a politician with virtually no military expertise and an estimated 4,500 untrained and ill-equipped Confederate troops. Amidst the roar of naval cannon bombarding the shore and woods in the direction of the Confederate line, blowing the tops of trees apart and showering the troops below with fiery fragments of iron and wood. The early hours of the 14th, proved to be a fatal test of combat for the Confederate forces. The Confederate defense was commanded by Brig. Gen. Lawrence Branch.
On the 14th, Brig. Gens. John G. Foster's, Jesse Reno's, and John G. Parke's brigades attacked along the railroad and after 4 hours of fighting drove the Confederates out of their fortifications.Outgunned by a force almost 3-times their size and under-equipped, the Confederates fought for almost 4 hours before being forced to retreat from the field. By the early afternoon, as the smoke gradually diminished across the swampy pine terrain, the once colonial capital of North Carolina was occupied by the Union, which stayed for the duration of the War.
Branch lost scores of desperately needed cannon and virtually all of the camp equipment and ammunition stores at New Bern. He also lost a valuable port and rail head which ultimately became the Headquarters of the District of North Carolina, which proved to be a pain in the side of the Confederacy throughout the War. The Federals captured 9 forts and 41 heavy guns and occupied a base which they would hold to the end of the war, in spite of several Confederate attempts to recover the town.