The Battle of Blue's Gap/ Hanging Rock Gap
January 7, 1861 near Romney, West Virginia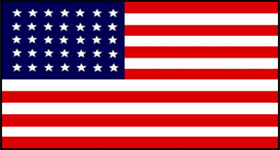 | | | | |
| --- | --- | --- | --- |
| Strength | Killed | Wounded | Missing / Captured |
| ? | ? | ? | ? |
| | | | |
| --- | --- | --- | --- |
| Strength | Killed | Wounded | Missing/Captured |
| ~+mn~ 2,000 | 15 | ? | 20 |
Conclusion: Union Victory
On January 7, the Confederate troops, commanded by Maj. Gen. Thomas J. Jackson, moved into the Blue's Gap/ Hanging Rock Gap. This area was near Romney. In a snowstorm, the Union force, commanded by Col. ?? Dunning, skirmished with the Confederates. The Federals were able to defeat the Confederates.
From Harper's Weekly, January 25, 1862
Our army in Western Virginia continues active. A brilliant affair is announced to have taken place at Blue's Gap, east of Romney, at daybreak on 7th, when a detachment of General Kelley's forces, commanded by Colonel Dunning, of the Fifth Ohio regiment, attacked two thousand of the enemy, routing them completely. The rebels had fifteen killed, two pieces of cannon, their wagons, etc., and twenty prisoners, including one commissioned officer, were captured. None of the Union soldiers were killed. A force of three hundred Union troops, belonging to the Thirty-second Ohio regiment, under command of Captain Lacey, dispatched by General Milroy into Tucker County, dispersed four hundred rebels, and captured a large quantity of stores, a commissary, a first lieutenant, and a private soldier. Four of the rebels were found dead on the field, and a large number of wounded. At last accounts the Union troops were in hot pursuit of the fugitives.