The Battle of Port Royal Ferry
January 1, 1862 in Port Royal, South Carolina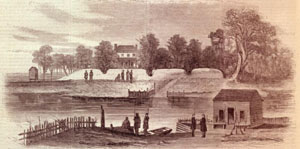 | | | | |
| --- | --- | --- | --- |
| Strength | Killed | Wounded | Missing/Captured |
| 4,500 | 2 | 13 | ? |
| | | | |
| --- | --- | --- | --- |
| Strength | Killed | Wounded | Missing/Captured |
| 8,000 est | 8 | 24 | ? |
Conclusion: Union Victory
The battle of was a brisk fight at Port Royal Ferry, about 25 miles from Hilton Head. The expedition which achieved this Union victory was a combined land and naval effort. The command was a joint command of Brig. Gen. I. Stevens and Capt. Rogers of the flagship U.S.S. Wabash. The Union army consisted of the 8th Michigan Regiment, Pennsylvania Round Heads, 50th Pennsylvania, 79th New York Militia, and the 47th and 48th New York Volunteers. The naval force also had 4 gunboats, the Ellen, Ottawa, Seneca, and the Pembina.
Steven's brigade advanced on Port Royal and took possession of the Confederate batteries after a short skirmish with the Confederate defense. The Federals were assisted by the gunboats which shelled the batteries from the shoreline. The Federals pursued the Confederates to within 6 miles from the Charleston Railroad.
After the fight, the Confederates issued a flag of truce for the purpose of burying their dead. Stevens agreed to the truce. One hour was granted to the Confederates for the burial detail, after which the confederates fell back upon their fortifications near the railroad, which was very extensive, leaving behind them 1 large gun, which they had spiked.