The Battle of Mount Zion Church
December 28, 1861 in Mount Zion Church, Missouri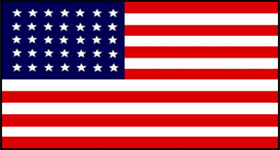 Union Forces Commanded by
Brig. Gen. Benjamin M. Prentiss
| | | | |
| --- | --- | --- | --- |
| Strength | Killed | Wounded | Missing/Captured |
| 440 est. | 5 | 63 | 10 |
Confederate Forces Commanded by
Col. Caleb Dorsey
| | | | |
| --- | --- | --- | --- |
| Strength | Killed | Wounded | Missing/Captured |
| ~+mn~ ? | 25 | 150 | 10 |
Conclusion: Union Victory
Brig. Gen. Benjamin M. Prentiss led a Union force of 5 mounted companies and 2 companies of Birge's sharpshooters into Boone County to protect the North Missouri Railroad and overawe secessionist sentiment there. After arriving in Sturgeon on December 26, Prentiss learned of a band of Confederates near Hallsville.
On the 27th, Prentiss sent one troop of cavalry to locate a concentration of Confederates near Hallsville and finding none in Hallsville, they proceeded about 2 miles beyond their advance guard and encountered Col. Celab Dorsey's men about 1/2 a mile northeast of Mount Zion Church and fired upon them, and then fell back. Dorsey pursued them and 3 miles form the church overtook and fired upon them. A 10-minute skirmish ensued. By 6:00 P.M. the rest of Howland's men had returned to Sturgeon.
The next morning at 2:00 A.M., Prentiss set out with his entire force to meet Dorsey's Confederates in the brush about 100 yards east of the Mount Zion Church. He routed one company of Confederates on the road from Hallsville to Mount Zion and learned that the rest of the force was at Mount Zion Church. Prentiss headed for the church.The Federals made 3 charges and during the third charge, the ammunition in Dorsey command became exhausted. Dorsey then fell back to his wagons. The battle closed about 11:00 A.M.
The Confederates retreated, leaving their killed and wounded on the battlefield and abandoning many animals, weapons, and supplies. A few days after the fight, an arrangement was effected for the exchange of the prisoners. After leaving Mt. Zion Church, Dorsey made his way westward into Perche township and went into camp near Everett. He remained there a day or two, and then, pursuant to orders from Gen. Price, ordered his command to "scatter." This action and others curtailed Rebel recruiting activities in Central Missouri.
Site Map
| Copyright © 2012
USwars.com
,