The Battle of Hatteras Inlet Batteries
August 28-29, 1861 in Fort Hatteras and Fort Clark, North Carolina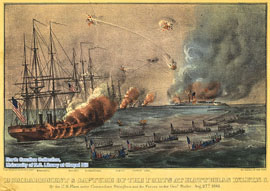 | | | | |
| --- | --- | --- | --- |
| Strength | Killed | Wounded | Missing/Captured |
| ~+mn~2,000 | 1 | 2 | ? |
| | | | |
| --- | --- | --- | --- |
| Strength | Killed | Wounded | Missing/Captured |
| ~+mn~900 | 5 | 51 | 45 / 670 |
Conclusion: Confederate Union Victory
Blockade of the Carolina Coast
At the war's onset, North carolina troops fortified the sea approach to Hatteras Inlet, one of the state's busiest ports, a haven for blockade-runners, and a major supply conduit for Confederate forces in Virginia. Two defensive positions were constructed: fort hatteras, 1/8 mile west of the inlet, on ground that commanded the sea channel, and Fort Clark, a smaller installation east of the Hatteras. The larger fort mounted a dozen 32-pound smoothbore cannon, Fort Clark had 7 smoothbores. This arrangement permitted a crossfire to be leveled at any invaders. Soon, almost 600 North Carolinians manned the works.
The guns were not needed until August, when Confederate blockade-runners began to hurt Union shipping. On August 9, the commander of the Atlantic Blockading Squadron, Flag Officer Silas H. Stringham, was sent to neutralize the defenses of the forts. Accompanying his fleet of 7 warships were 2 transports carrying 880 Union soldiers, commanded by Maj. Gen. Benjamin F. Butler, who had suggested such an expedition to the War Department. Smarting over his recent removal from command at Fort Monroe, Virginia, he regarded the experience as a means of recouping lost prestige.
On the afternoon of August 27, Stringham's fleet reached Hatteras Inlet from Fort Monroe, and Butler readied a landing. The plan called for his army to attack the land-face of Fort Hatteras, while the navy, with 143 rifled-cannon, would shell continuously both works. At 10:00 A.M. on August 28, Stringham began to shell the forts with accurate firepower. Attempting to reply, the Confederates' shells fell short of their mark.
Just before noon, Butler's troops took to surfboats, but heavy breakers dashed many of the vessels against the shore, drowning dozens of men. Even so, by days' end, the Confederates had abandoned Fort Clark and resistance from Fort Hatteras had weakened considerably. That night, Fort Hatteras' garrison was augmented by support from Portsmouth, Virginia, under Flag Officer Samuel Barron, Chief of Coastal Defenses in Virginia and North Carolina. The additional troops failed to help. On August 29, under ceaseless pounding of Union naval guns, Barron surrendered Fort Hatteras and its environs early on the afternoon. The capitulation bouyed Union morale, sinking since the Battle of 1st Manassas/Bull Run, advanced Butler's standing, despite his troops' lack of participation, and shook Confederate confidence. Butler returned to Fort Monroe, leaving the captured forts garrisoned. This movement was part of Union efforts to seize coastal enclaves from which to enforce the blockade.