The Battle of Dug Springs
August 2, 1861 in Dug Springs, Missouri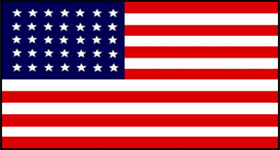 | | | | |
| --- | --- | --- | --- |
| Strength | Killed | Wounded | Missing/Captured |
| 2 - 4,000 | 4 | 37 | - |
| | | | |
| --- | --- | --- | --- |
| Strength | Killed | Wounded | Missing/Captured |
| ~+mn~12,000 | 40 | 44 | ? |
Conclusion: Union Victory
On August 1, news reached the Union troops that the Confederates were advancing on them, in 3 columns, with a force numbering 12,000 men. Gen. Nathaniel Lyon immediately set out to meet them. About 12 miles west of Dug Springs, Lyon encamped that evening, on Tyrel Creek, and on the 2nd, advanced to Dug Springs, about 19 miles southwest of Springfield, where he obtained intelligence of the enemy.
A fight took place between 4:00-6:00 P.M.. A party of 270 cavalry, as previously reported, were crossing a ridge of high land, partially inclosed on the east by a valley, and, when descending the hill, came upon a large force of the Union infantry, variously estimated at from 2,000-4,000, and being unable to retreat, they charged and cut their way through.
The Confederates retreated southward, to a place called M'Cullough's Store, on the Fayetteville Road.
About 9:00 A.M., after a march of 7 miles, a picket guard of some 50 mounted men was seen, and a shell was thrown among them as a gentle reminder that the Union troops were around. They at once made good time toward the main body, some 2 miles ahead. Near a place called Dug Spring, Union advanced pickets met those of the Confederates and exchanged a few shots.The Confederates were posted in a wood crowning a gentle slope, and covering it to the foot, where the road for half a mile ran through a valley between low hills, or rather "swells" of land, covered with a scanty growth of oak bushes, from 1-5 feet in height, interspersed with a few small trees. As the Confederates position and numbers were concealed by the wood, Lyon did not deem it prudent to advance the column within range, as a masked battery might at any moment open upon it with considerable effect, while at the same time our strength would avail the Union troops nothing. For upward of an hour nothing was done save the exchanging of a few shots among the pickets, and at length Lyon gave the order for the column to fall back and encamp in the vicinity of the spring. This movement was considered by the Confederates to be a retreat, and as soon as Union troops were in motion their cavalry made its appearance from the wood and passed to the front of a corn-field which covered their extreme left.
The Confederates did not again appear that day, and the command encamped and passed the night in quiet. The utmost care was taken to prevent a surprise during the night by posting pickets in all directions, and arranging the camp with special reference to a defense in the darkness. On this August 3rd, Lyon did not have the Confederates pursued very far down the Wire Road. His scouts advised him that he was being led into a trap, so he and his men returned to Springfield