The Battle of Corrick's Ford
July 13, 1861 in Beverly, West Virginia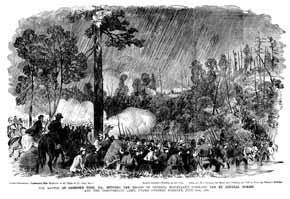 | | | |
| --- | --- | --- |
| Strength | Killed & Wounded | Missing/Captured |
| ~+mn~20,000 | 10 to 53 | ? |
| | | |
| --- | --- | --- |
| Strength | Killed & Wounded | Missing/Captured |
| ~+mn~4,500 | 20 | 600 |
Conclusion: Union Victory
The mountainous western counties of Virginia, defying Confederate authorities in Richmond, seceded from Virginia on July 11, to rejoin the Union. With 20,000 Union soldiers, Maj. Gen. George B. McClellan, commander of the Department of the Ohio, had moved into the Allegheny Mountains region in late May to support the counties. Against this army, Virginia authorities dispatched Brig. Gen. Robert S. Garnett and 4,500 men.
Garnett's Virginia and Georgia troops occupied the town of Beverly, a vital crossroads village in the Tygart River Valley, 50 miles west of the Shenandoah Valley. Garnett divided his command to cover the northern and western approaches. Five miles west of the town, on the crest of Rich Mountain, Garnett stationed 1,300 men and 4 cannon, under Lt. Col. John Pegram. The remaining Confederates and 4 cannon, which Garnett commanded personally, occupied Laurel Mountain, 16 miles north of Beverly, which served as the supply depot. The Confederates entrenched both positions with log breastworks.
Garnett harassed Union supply lines but could do little more against McClellan's overwhelming numbers. McClellan, angered by the raids, decided to destroy the Confederates. With 4 brigades numbering 15,000 men, he arrived opposite the Confederate positions on July 9th. The next day, he spent the day reconnoitering, deciding on an attack against Pegram.
On July 11, in a lashing rainstorm, Brig. Gen. William S. Rosecrans' brigade scrambled up Rich Mountain beyond the Confederate left flank. The Union assault forced Pegram to divide his force. After 2 or 3 hours of skirmishing, part of the Union brigade broke the Confederates' line. Pegram, losing 2 cannon, abandoned the crest and retreated to Beverly.
Garnett learned that evening of Pegram's defeat and evacuated his position about midnight. He marched toward Beverly only to receive false information that McClellan's men occupied the town. The Confederates then retraced their march, abandoning the turnpike at Leadsville, and crossed Cheat Mountain into the Cheat River Valley, Brig. Gen. Thomas A. Morris, with his Indiana brigade, pursued them.
On July 13, around midday, Morris overtook Garnett's rear guard at Corrick's Ford, and the Hoosiers pitched into the retreating Confederates. Garnett personally directed the Confederate skirmishers, so0n withdrawing to another ford a mile or two farther away, where the running skirmish resumed briefly. As Garnett prepared again to retreat, a Union volley killed him instantly. The Confederates fled, abandoning their dead commander, one cannon, and nearly 40 wagons.
Pegram, whose retreat had been cut off by McClellan, surrendered 555 men that day. McClellan had won a victory that resulted in instant fame and a summons from Washington, D.C., to come east. For Confederate authorities, the disaster called for a new commander in western Virginia. Two weeks after Corrick's Ford, Gen. Robert E. Lee came west to coordinate the Confederate operations.