The Battle of Laurel Hill
July 7, 1861 in Laurel Hill, West Virginia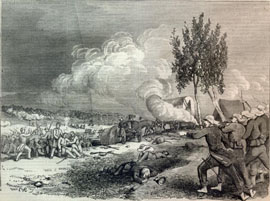 Union Forces Commanded by
Brigadier General Thomas Morris.
| | | | |
| --- | --- | --- | --- |
| Strength | Killed | Wounded | Missing/Captured |
| ~+mn~ ? | 2 | 6 | ? |
Confederate Forces Commanded by
Brig. Gen. Robert S. Garnett
| | | | |
| --- | --- | --- | --- |
| Strength | Killed | Wounded | Missing/Captured |
| 3,351 | ? | ? | ? |
Conclusion: Union Victory
Laurel Hill, or Mountain, was the northeastern extension of Rich Mountain. Divided by the Tygart River, the 2 peaks formed a part of the most westerly range of the Allegheny mountains. The 2 mountains towered above the Tygart River valley, where the Parkersburg-Staunton Turnpike passed through Beverly on its circuitous path to the Shenandoah valley. The army that occupied the eminences held the gateway to northwestern Virginia.
Brig. Gen. Robert S. Garnett took command in western Virginia, seizing vital turnpike passes at Rich Mountain and Laurel Hill. Confederate forces under Garnett seized Laurel Hill on June 16th. Garnett established headquarters at Laurel Hill, awaiting reinforcements as he fortified that stronghold to halt the advance of Union troops in the Tygart Valley. Garnett entrenched immediately, while blocking all the country roads from the northwest with fallen trees. They also built fortifications on Rich Mountain, with garnett dividing his command between both camps. Five days after Garnett manned the mountain gateway, Maj. Gen. George B. McClellan entered western Virginia, his command consisting of 27 infantry regiments, 4 artillery batteries, and 2 troops of cavalry. On July 2nd, the Union force occupied Buckhannon, 8 miles west of Laurel Hill.
On the 6th, McClellan began a full-scale advance on Garnett's position. Col. Robert L. McCook, with 2 regiments, led the Union march, arriving before Garnett's 2 regiments on Laurel Hill. The next day, McCook's Ohio volunteers probed the Confederate works on the hill. Skirmishing flared and continued for 4 days. while the opponents dueled on the mountainside, McClellan attacked the Rich Mountain works on the 11th, resulting in a Confederate defeat.
On the 11th, within earshot of Laurel Hill, Maj. Gen. George B. McClellan's troops won a decisive battle at Rich Mountain. Garnett abruptly found his army cut off at Laurel Hill. With Federals in his rear, Garnett abandoned Laurel Hill that night. In a desperate bid to escape, he retreated east along a rugged mountain trace to Corricks Ford on Shavers Fork of Cheat River.
At that swollen river crossing, Garnett was killed while defending the rear guard of his army—the first general to fall in action during the Civil War. His remnant force abandoned huge quantities of equipment and fled, demoralized.
The action at Laurel Hill played an important role in McClellan's rise to fame as the "Young Napoleon," and helped secure western Virginia for the Union. These first land battles resulted in Union control of western Virginia for virtually the duration of the Civil War. Seizure of important transportation routes made it difficult to supply Confederate units throughout the conflict.
Site Map
| Copyright © 2012
USwars.com
,